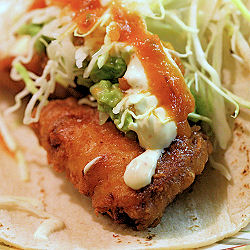 One day last week, I looked up from my work and was stunned to see it was nearly 2:30 in the afternoon. The day had screamed away from me, and — not surprisingly — I was ravenous.
Local food choices near my office are pretty bleak, so I try to eat pescitarian when I can't determine the source of my lunchtime chow. It's an easy choice to make, since the mall near my office is home to one of the Bay Area's only outposts of Rubio's, a SoCal chain of Baja-style joints. Their #1 combo plate — two fish tacos and a side of frijoles — makes a reliable lunch in a pinch.
Usually, that is.
Unfortunately, the tacos I got that afternoon were pretty bad: The tortillas were falling apart, and the fish was smelly and dark. I pulled the offending meat out and ate my tacos veggie style, resolving to remember to bring my lunch the next day.
Rather than put me off, the whole experience just made me crave fish tacos — real ones, good ones — all the more. So come Saturday, we stopped by Shogun Fish at the Ferry Plaza farmers market and picked up a nice fillet of black rockfish caught off the Mendocino coast. I figured we'd be out of luck for local cabbage, but we found a gorgeous head over at Tierra's stand, where we also picked up a bag of super-smoky chipotles. Add in a pack of Rancho Gordo tortillas and a tub of Primavera salsa, and we were good to go.
Even if you think you don't like seafood, a Baja-style fish taco is pretty easy to love. There's not really anything mysterious about them: Batter-fried fish, wrapped in a corn tortilla, topped with shredded cabbage, salsa, and creamy white sauce.
To drink? Well, there isn't a much better local alternative that good old Anchor Steam, brewed about 2 miles from our house. We used it in the fish batter, too, along with Guisto's flour, Stonehouse olive oil, and a Marin Sun Farms egg white. The traditional salsa blanca combines equal parts Clover Organic sour cream and home-made mayonnaise (from the same local eggs and oil), spiced up with the Tierra chipotles.
The result: My favorite kind of summertime food — good ingredients, simply prepared.
Baja-Style Crispy Fish Tacos
adapted from The River Cottage Cookbook
- fish:
1 large fillet of firm, white fish (about 12 ounces)
scant 2/3 cups all-purpose flour
1T olive oil
up to 6oz beer, as needed
1 egg white
oil, for frying

- white sauce:
1/3 cup mayonnaise
1/3 cup sour cream
1 or 2 chipotle chiles (canned or dry)
- to serve:
corn tortillas
1/4 head of cabbage, shredded fine
prepared salsa or taco sauce
cilantro sprigs, if desired
Mix the flour with oil, then thin it with beer to the consistency of thick paint. Season with salt and pepper, and leave at room temperature for at least an hour while you prep your other ingredients.
Cut your fish into 1-1/2-inch strips, against the grain of the fillet. Season with salt and pepper on both sides, and set aside.
For the white sauce, combine the mayo and the sour cream. If using dry chipotles, soak them in hot water for 15-20 minutes until soft, then chop to a fine paste with kosher salt. For canned chipotles, a simple mashing will do. Add the chipotle paste, to taste, to the sour cream-mayo mixture; season with salt as needed.
Heat oil in a deep-sided kettle or dutch oven to 350°.
Whip the egg white until frothy, then fold into the rested fish batter. Dip the fish pieces in the batter, shaking off any excess, and gently lower them into the hot oil. (You may need to work in multiple batches to avoid crowding the pan; be careful not to allow the oil temperature to drop.) When golden brown, remove from the oil with a spider or slotted spoon. Place the fish on a wire rack over old newspaper while you fry the remaining pieces.
To serve, place a piece of fish in the center of a tortilla; top with white sauce, salsa, cilantro, and shredded cabbage as desired.