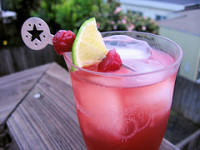 Fancy seasonal cocktails with convoluted ingredient lists can be lovely if you're entertaining at home, but when you're limited to the contents of a friend's or relative's liquor cabinet, it's better to be prepared for elegant compromise.
This cocktail classic's easily made with supermarket ingredients — or even the contents of your hotel minibar, should it come to that. And what's more perfect for Thanksgiving than cranberries?
The Cape Codder
1-1/2 oz. vodka
3 oz. cranberry juice, or to taste
lime, for garnish
Combine vodka and juice in an ice-filled highball or old-fashioned glass. Garnish with a lime wedge and/or a few reydrated cranberries, for a seasonal touch.