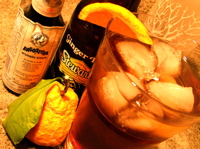 In our house, we're New England Patriots fans (Cameron's an East Coast transplant), and Sam Adams is the usual "football juice" on game day. But with the AFC championship at stake this weekend, a more pointed beverage is in order.
This variation on the Moscow Mule seems a fitting tribute to the Pats. After all, the story of Ichabod Crane is a formidable legend, just like our boys on the gridiron. And when you're playing a team called the Colts, the mere thought of headless horse-men is enough to make you giddy.
Headless Horseman
2 oz. vodka
3 dashes aromatic bitters
ginger ale
orange slice, for garnish
In a highball glass, combine the vodka and the bitters. Fill the glass with ice, and top with ginger ale. Garnish with the orange slice, and serve with a haunting laugh.