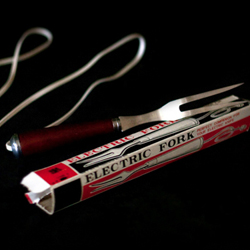 Merry Christmas to all! Hope you have a lot of delicious treats in store over the long weekend.
You probably have an electric knife — heck, you might even be hauling it out to carve your Christmas ham or prime rib — but I bet you don't have an electric fork.
Think you might need one? Check out my guest post today on The Kitchn, Apartment Therapy's food site, for the story of my family's silly holiday tradition.