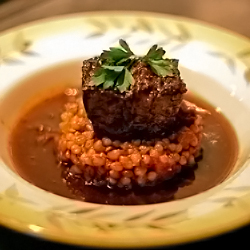 Despite our enduring love for our nieces and pint-sized friends, this blog will never feature the sort of recipes that usually pass for kid-friendly meals. With high-octane cocktails, labor-intensive recipes, and frequent bouts of profanity, no sane reader would ever mistake me for a mommy blogger. And yet, one of the best food books I've read in quite some time — one I actually forked over cash to buy — is Hungry Monkey: A Food-Loving Father's Quest to Raise an Adventurous Eater. A title that's shelved not with the cookbooks, but in the heretofore unexplored Baby & Toddler section of my local bookstore.
I doubt Hungry Monkey would have found its way to our house if we weren't already friends with the book's author, Matthew Amster-Burton, and his daughter Iris. But that surely would have been my loss, because once I picked it up, I couldn't stop reading. Or laughing. Matthew's a pretty funny guy, something you may already know if you read his blog, Roots & Grubs, or his witty writings on Culinate, Gourmet.com, or pretty much anywhere else you go for clever, thoughtful food writing these days. And even if you couldn't give a fig for the intricacies of raising a little fresser, you can't help but be drawn in by Matthew's no-nonsense ideas about food.
Now, in the interest of full disclosure, I think it's only fair to admit that I'm friends not only with Matthew, his wife Laurie, and little Iris, but also with grandma Judy, and many of the other characters in the book — Tea, Shauna, Molly, and the gang — so reading a chapter is like old home week for me. Some of my favorite memories from our Seattle days involve the dinner parties we used to throw. Every New Year's Day, we'd make an enormous pot of cassoulet and invite our friends to polish it off; the Amster-Burtons were among the 50 or so food-obsessed friends who came to the second-annual fête.
I don't remember much else from that day, but I do remember Iris — who had just turned one — sitting on our kitchen floor and calmly polishing off an adult-sized plate of braised pork, beans, and duck confit. Reading the book, I was tickled that Matthew remembered, too: The cassoulet-gobbling tale is but one of dozens of spot-on anecdotes he uses to illustrate his theories. (In this case, the point is: "Stew is the ultimate in baby food. It's easy to make. It's easy to eat: you don't even need teeth.")
But aside from personal affection, Matthew's stories of cooking for Iris are universal, whether you're a parent, a proud aunt, or even kid-agnostic. In a way, my feelings about Hungry Monkey are similar to Matthew's own enthusiasm for his daughter's culinary education:
"I was gung-ho about sharing our food with Iris for the same reason people share food with each other everywhere: it's fun. It was the first opportunity for Iris and me to share an experience and enjoy it for the same reasons. I mean, I liked playing peek-a-boo (I called it "peekytoe") because it made Iris laugh, but it's not like it's something Laurie and I played before Iris was born — or, at least, I wouldn't admit to it. But I like enchiladas. Iris likes enchiladas. We can agree on enchiladas."
On the surface, I may not have a lot in common with a stay-at-home dad. But our mutual love of food — and a fondness for belly laughs — makes Hungry Monkey worth a read, even if you have no experience with the tribulations of breastfeeding, or coaxing a toddler to the dinner table. With the exception of a couple of purees, there's hardly a recipe in the book that looks or tastes like kid chow. Last winter, Cameron and I tested a dozen or so of the recipes during the book's development, and we'll personally vouch for Matthew's stacked enchiladas, Cornish pasties, and bibimbap, not to mention a recipe for carnitas that's so quick and simple we didn't believe it would work. (It did, deliciously.)
If you need further convincing, plan to pop by one of Matthew's readings in the Bay Area the week of May 24 (check the schedule here). Photographic evidence indicates that Hungry Monkey is even more hilarious when read aloud by its author.
If you can't get to one of Matthew's book-signings, there's still a chance to have your own brush with fame: I've got an extra copy of the book — there is some payoff for being a recipe-tester! — and it just so happens that Matthew will be visiting us on his swing through town. So, if you'd like to win an autographed copy of Hungry Monkey, leave a comment below telling us about your favorite food when you were little. Next weekend, I'll pick a comment at random and get in touch with the lucky winner to ask how they'd like the book inscribed.
In the meantime, here's a little proof that not all kid-friendly food has to look like stewed prunes and taste like mush.
Beer-Braised Short Ribs with Wheat Berries
- from Hungry Monkey by Matthew Amster-Burton, reprinted with permission
3 to 4 pounds beef short ribs (flanken or English-style)
salt and pepper
3 tablespoons olive oil
2 cloves garlic, thinly sliced
1 large onion, diced
1 carrot, peeled and diced
1 celery stalk, diced
1 cup wheat berries (see note)
2 bottles (2-1/4 cups) porter-style beer
1 cup canned crushed tomatoes, not drained
1-1/2 cups chicken stock
2 tablespoons minced parsley
Preheat oven to 450°F.
Season the ribs liberally with salt and pepper and place them on a foil-lined baking sheet (bone-side down if you're using English style ribs). Roast 45 minutes or until they're nicely browned and have rendered plenty of fat. Reduce oven temperature to 275°F.
While the ribs are roasting, heat the olive oil in a Dutch oven or other large pot over medium heat. Add the garlic, onion, carrot, and celery. Cook until vegetables are limp but not browned, 5 to 10 minutes.
Add the wheat berries, beer, tomatoes, and chicken stock, and stir to mix. Add the browned ribs, raise the heat to medium-high, and cover. When the pot is boiling, transfer it to the oven (you did remember to turn it down to 275°F, right?). Braise for 2-1/2 to 3 hours, or until meat is very tender. Season with additional salt and pepper to taste.
If serving immediately, remove the meat and strain the sauce, then skim off the fat with a spoon or gravy separator. Otherwise, cool to room temperature and refrigerate everything together, skimming off the solidified fat before reheating. Give each person one or two ribs (remove the bones before serving if you like), a ladleful of wheat berries and sauce, and a sprinkling of parsley.
Note: Wheat berries are available in the bulk section at any health food store. Mine has sometimes managed to run out, so I've substituted pearl barley to good effect. Hard or soft wheat berries will work. For another variation, substitute French green lentils for the wheat berries.