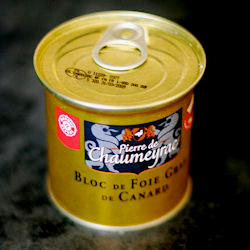 Bill Andronico
Andronico's Markets Inc.
1109 Washington Avenue
Albany, CA 94706
Dear Mr. Andronico:
I have been a long-time shopper at your Irving Street store in San Francisco. Although I no longer purchase meat at the supermarket — preferring to buy my meat and eggs directly from farmers who make a point of their humane and ethical practices — I have always been very impressed by the knowledge and skill of your butchers in the past. Which is why I am stunned to read about your ill-informed, reactive policy regarding foie gras sales.
I don't generally eat foie gras myself — I don't care for its richness, nor its cost — but from rather extensive reading on the subject, I think it's quite plausible that the "cruelty" of its production is overrated. On the other hand, I fully believe that standard, everyday conditions for commercial hens, pigs, cows, and other factory-farmed animals are grossly inhumane by any realistic measure.
If you and your company truly cared about animal welfare, you would stop selling battery-hen eggs and feedlot pork. Intensive factory farming is far more cruel — and thousands of times more pervasive — than the process of "force feeding" geese and ducks.
I suggest you do some additional homework about the realities of what goes into the meat, eggs, and dairy you sell before zeroing in on such an easy knee-jerk target. (The movie Food, Inc., which opens next month, might be a good starting point.) Otherwise, you run the risk of looking like a publicity-hungry hypocrite.