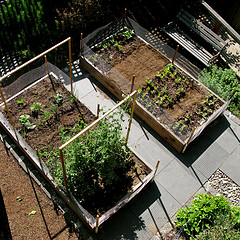 A couple of weeks ago, I ended up talking to a reporter for the SF Chronicle for a story on urban gardening, and had a grand time bending her ear about my recent adventures. But after I rang off, my lovely and talented wife gently reminded me that our own home-grown publication hadn't seen any garden news in… er… months.
Let's see… where were we? In mid-January, everything in our newly built beds looked very promising: The radishes had sprouted, the onion sets were sporting little green mohawks, and the peas were "ready to wrestle a very tiny trellis into submission."
But by mid-February, though the peas were still rocking and rolling, everything else had stopped growing. It was a completely pathetic sight: Rows of tiny green leaves surrounded by what looked like miles of grey-brown wasteland. By mid-March, the peas really did need some kind of trellis, but everything else was basically unchanged. I started to wonder if cold weather and frost had nuked my seedlings. Ridiculous, sure, but what did I know?
That was the start of a spring spent learning how to turn raw dirt and compost into a place where plants actually want to grow. I reconfigured the drip irrigation system three times, then watered by hand. I added more compost, cocoa bean mulch, fish emulsion, greensand, and finally a general purpose organic fertilizer. Basically, I followed the same approach as new parents confronted with a crying baby — "Is it thirsty? Is it hungry?" — except I was getting a lot more sleep.
I replanted the radishes and beets in what I hoped were more hospitable digs (ha!). But my thrill at the quick flush of new growth turned to fury as I realized that the new seedlings were being eaten down to the stem almost as soon as they emerged. As if that weren't enough, I found that by filling raised beds with soft compost and soil, I had inadvertently opened a five-star refreshment facility for the neighborhood cats.
Imagine the thousand scenes where Clint Eastwood's eyes narrow to a hard, weatherbeaten squint behind a loaded sixgun, and you've got a picture of my state of mind. The words "critter" and "varmint" entered my vocabulary. I closed the kitty spa by installing a low fence around the beds, but that didn't stop whatever was chewing on the delicate sprouts. I embarked on nightly expeditions armed with a flashlight to try and catch insectile marauders in the act. That was the worst part: I couldn't find any evidence of what was doing the damage. At last, I spotted a lone earwig scurrying across the beds late one night. Skeptical but desperate, I put out small tins full of beer as traps; after a couple of days, I was happy man. Those little prehistoric-looking summbitches loves them some suds, but they sure can't swim a lick.
By this point it was April and though the peas were swarming up the second trellis I'd built (they didn't like the first one — who knew that peas could be divas?), the rest of the plants looked like they'd survived a war. So I did the sensible thing: I planted more stuff that I'd never successfully grown before. Pickling cucumbers and cornichons took up residence in the beds. On the edges of the yard — in the sunniest, warmest spot along our northern fence — I put in St. Pierre and New Girl tomato plants, along with a brace of Kentucky pole beans around the corner. I adapted a yard composter to serve as a potato tower, populating it with seed potatoes that had returned with us from London. And although several of the cucumber plants didn't thrive, everything else seems reasonably happy and healthy.
Back in November, when I first contemplated pulling up the slate tiles of our beautiful (though completely unused) patio and dropping a bunch of cash on wood, dirt, and compost, I slowed my racing heart by remembering that I had a lot to learn, that the first year of the garden would be a pure lark. Even so, I had no idea how difficult and how rewarding this project would be. On top of finding out basic stuff about what makes plants happy, I'm getting to know our back forty (feet) and its little ecosystem: Where the sun shines and where it doesn't, what's in the soil and what isn't, and what sort of critters and varmints (good and bad) are crawling around.
One of the more amusing revelations that I've had along the way is that when it comes to our patch, nobody knows much more than I do. Last week, I decided that I wanted to put asparagus along the eastern fence line, but I was worried that it was too late in the season to plant the crowns. I fired off an e-mail to an expert source and got a response that boiled down to, "Sounds like a great idea! It might work…but then again it might not. Give it a try!" They say that in politics that if you want a friend, you should get a dog. In gardening, if you want certainty, get FedEx or get religion.
But the lack of guarantees may be what makes the harvest so special and satisfying. I still can't quite believe it when I see the (very small) piles of radishes on the counter that went from seed to salad not thirty feet from the kitchen sink. I've got a long way to go, but the path ahead is one of the most inviting that I've ever seen. Every single peapod I munch tastes like victory.