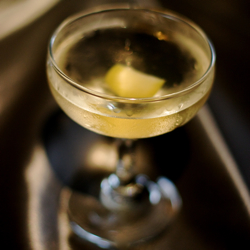 It's been a good year or two for vintage cocktail buffs. After wandering in the metaphorical desert for so long in search of lost ingredients, our oddball desires have finally been vindicated. Every few months, a flurry of spirits are resurrected from the dustbins, opening up another chapter of classic recipes for experimentation.
The latest no-longer-missing link is genever, also known in the old cocktail manuals as Holland gin. Of course, genever's never really gone away. Industrious cocktail hounds have traveled to the Netherlands and brought back suitcases full of the juniper-laced spirit, or scoured the dusty shelves of liquor stores in search of the odd bottle or two. And the drink-nerdy among us will vouch that San Francisco's very own Anchor Distilling — of Junipero gin and Old Potrero whiskey fame — produces their own genever-ish expression known as Genevieve.
But true Dutch-style genever has been rather thin on the ground in the States, at least until this fall. At the West Coast reintroduction of Bols Genever, I had a chance to chat with cocktail historian David Wondrich, most recently known as the author of the top-notch Jerry Thomas biography, Imbibe!.
Accustomed to a fair bit of cynicism in the professional cocktail world, I was struck by how genuinely excited Wondrich seems about this re-release.
"When you make some of the old [Thomas] drinks with London dry gin," says Wondrich, "You take a sip and think 'Hmm, tastes must have changed in the last 100 years' and dump it out. But when you mix them with genever — which was the gin the bartenders were using in those days — the flavors suddenly click." Running down the Thomas drinks roster with Wondrich, you get a sense of how a steady supply of good genever could change things dramatically for vintage cocktail aficionados; perhaps 19th-century cocktails will be the next big thing after all.
If you're expecting genever to taste like a typical English gin, you'll be taken aback; its flavor is closer to a young whiskey minus any of the woody notes, or perhaps a silver tequila without agave's horse-blanket overtones. Though genever is commonly regarded as the forerunner of gin, most gin is little more than herb-infused vodka, redistilled to remove harsh flavors and cloudiness. Traditional genever starts out as maltwine, which in turn begins as a beer-like mash. Bearing all this in mind, Bols has taken pains to ensure that their genever is not labeled or marketed as a gin, instead pushing the government to recognize it as a distinct spirits class. On the other side of the Atlantic, genever benefits from a new European Union location-protected appellation — analgous to Champagne or Cognac or Roquefort — mandating production within the Netherlands and adjoining low-countries regions in order to bear the name.
(Oh, and about that name? It's pronounced gen-EE-vrr, as opposed to JEN-eh-ver. Yes, I've been saying it wrong all these years, too, so don't feel too bad.)
And oh my, what a gorgeous bottle. Bols tells us it's the first use of smoked glass in a spirits bottle, manufactured using a technique that was not as easy to borrow from the perfume world as they had hoped. The logotype evokes the beautiful calligraphy found on the dark windows of old Dutch cafes.
Bols plied us with a parade of cocktails that afternoon, but my favorite — a preference shared by many of the folks I chatted with — was the Holland Gin Cocktail. Actually, Bols styles it the Improved Holland Gin Cock-Tail on their site, but since their recipe lacks any maraschino, I don't think that's actually the correct nomenclature. (I won't bore you with the details here, but if you're curious, I blathered about it elsewhere.) However you call it, this simply elegant combination showcases genever's taste to a T, highlighting just how much you're missing if you make many of the old drinks with plain-old gin.
Holland Gin Cocktail
- Jerry Thomas, by way of David Wondrich
2-3 oz Bols Genever
2-3 dashes rich (2:1) simple syrup
2 dashes orange bitters
1 dash dry orange curaçao
Prepare a chilled coupe or cocktail glass by wetting the rim with a lemon slice. Stir the drink ingredients with large ice cubes and strain into the prepared glass. Cut a large coin-sized zest of lemon directly over the cocktail, spraying the oils over the drink and running the zest around the rim before dropping it in the drink.