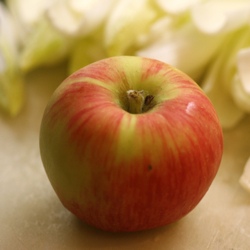 Before we dive into our week in local eating, I want to give a big shout out to our friend Jen over at Life Begins at 30 and Eat Local Challenge. Although she and her crew weren't the first to come up with the idea of supporting local farmers, ranchers, and producers by eating within a given radius of one's front door, they were the first to use the term "Locavore", way back in 2005.
And now, no less a light than the Oxford University Press — editors of the New American Oxford Dictionary — have dubbed 'locavore' their word of the year for 2007, beating out such other contenders as 'cougar' (hint: not the big, spotted cat) and 'colony collapse disorder' for the big prize:
"Locavore" was coined two years ago by a group of four women in San Francisco who proposed that local residents should try to eat only food grown or produced within a 100-mile radius. Other regional movements have emerged since then, though some groups refer to themselves as "localvores" rather than "locavores." However it's spelled, it's a word to watch.
And a movement to be reckoned with, y'all.
Last week was a little nuts. We both logged ridiculous hours at the office, cramming a week's worth of work into four days as we prepped for a long weekend in Los Angeles. (More on that soon.) There was not a smidge of high-falutin' cooking going on, but we still managed to rack up four meals for the Dark Days Challenge:
Zuni chicken & bread salad
- Marin Sun Farms chicken, Star Route frisee, Acme sweet batard, Bariani olive oil, O vinegar, Chue's green onions
- Jory Winery Santa Clara Valley chardonnay
Pasta alla Gianni and Bouchon's heirloom apple salad
- Pasta: Eduardo's linguine, Three Sisters Serena cheese, Chue's garlic, Bariani olive oil, local cauliflower (sorry, I blanched and froze this a month ago, and didn't keep my notes)
- Salad: Apple Farm apples, Point Reyes Farmstead white cheddar, Cowgirl creme fraiche, candied nuts from Alfieri, Fatted Calf bacon, and endive from that farmer I swore I would never buy from again
Rick Bayless's "Very, Very Good Chili", Carolina cole slaw, cornbread
- Chili: Prather Ranch beef, Rancho Gordo Mexican oregano and tortilla chips, Spring Hill colby-jack cheese, Will's avocado, Clover Organic sour cream
- Slaw: Happy Quail red pepper, heirloom torpedo cabbage from Dirty Girl, Eatwell Farm onion, O vinegar
- Cornbread (a miserable failure): Flour and cornmeal from Full Belly Farm, local eggs, Clover Organic butter
Pasta night
- Sean's marinara, Eduardo's rotini, grilled Fatted Calf Caprese sausage
- Little's romaine with leftover cheddar dressing
- Copain L'hiver Syrah, Mendocino County