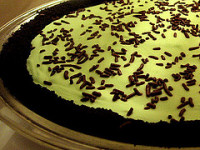 A faithful MWD reader, keeping an eye on my Flickr set last week, sent me an email: "I can't believe anyone other than my Mom is still making grasshopper pie!"
Well, believe it, Grasshopper! Knowing that Cameron and I aren't big fans of pumpkin pies, Mom asked what we wanted for Thanksgiving dessert, and this old favorite was the first thing that popped into my head. I know it was my "birthday cake" on more than one occasion growing up, and it's maintained its place in the pastry pantheon over the years. And I'm sure I'm not alone in my love of this cookie-crusted, nuclear-green pile o' fluff…
A few years ago, we rented a big house on Whidbey Island with a gaggle of friends, and I made a trio of pies for a Thanksgiving dinner: A gorgeous wild-blackberry pie with an all-butter lattice-top crust, a silky pumpkin custard in a leaf-lard shell, and a homely ol' Grasshopper Pie.
You know where this is going, don't you?
Sure enough, the Grasshopper was the hit of the dessert table, as a dozen thirty-somethings waxed nostalgic about the beloved dessert of their childhood.
Last year, I made the pie using Martha Stewart's recipe. It was good — maybe even better than the original — but the added effort took some of the charm out of dessert. Part of this pie's charm, at least for lazy ol' me, lies firmly in its simplicity, its reliance on grocery-store ingredients, and its thoroughly un-chic appearance.
Since it's minty and green, Grasshopper Pie makes a nice Christmas dessert. Or, you know, my birthday's not too far off…
Grasshopper Pie
16 Oreo cookies*, crushed fine
2 T butter, melted
1/2 cup milk
24 marshmallows (full size, not minis)
1/2 pint whipping cream
4 T creme de menthe
2 T creme de cacao
Chocolate curls or chocolate jimmies, for garnish
Mix butter into cookie crumbs and press evenly onto the bottom and sides of an 8-inch pie plate; refrigerate to set.
Heat the milk to a simmer in a large saucepan, then reduce heat to low and add marshmallows. Stir until all marshmallows melt. Cool the mixture to room temperature, then refrigerate.
When fully cool, beat the melted marshmallows with a hand mixer until fluffy, adding the creme de menthe and creme de cacao. In a separate bowl, beat the whipping cream to medium peaks, then fold whipped cream into the marshmallow mixture.
Pour filling into prepared crust. Trim with chocolate shavings or jimmies, or extra cookie crumbs. Freeze overnight, or at least 8 hours, before serving.
*If you want to get all fancy, replace the crust ingredients with 1/2 package Nabisco Famous Chocolate Wafers, crushed fine, and 4 T melted butter.