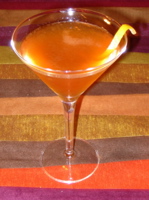 Editor's note: I don't know about the rest of you, but I for one have missed Drink of the Week during its recent hiatus. (Perhaps that's just a sign of how much I desperately need a cocktail, but I digress…)

This week's guest-bartender duties fall to our friends Lauren & Paul, another pair of cocktail aficionados from our Seattle crew. Just looking at that gorgeous photo reminds me of the wonderful parties they host in their fabulous house, and all the nights we've spent together at the Zig Zag, Union, and other Jet City cocktail haunts.
Last fall, we took a wine-tasting trip to the Okanagan. (Don't ask me why it's spelled "Okanagan" in Canada and "Okanogan" in the US — it's just one of those mysteries of life.) As we wandered around the little towns, we noticed each ice-cream parlor offered a flavor called "Tiger Tiger".
After many days of seeing this oddly named ice cream, we had to try it. Turns out it's orange and black-licorice ice cream swirled together to create a tiger-stripe effect. We decided the same flavor combination might make for a good cocktail. And so it does:
Tiger Tiger
2 oz. gin
3/4 oz. orange curacao
1/4 oz. lemon juice
splash Pernod
2 dashes orange bitters
Shake all ingredients, and strain into a chilled cocktail glass. Garnish with lemon peel.