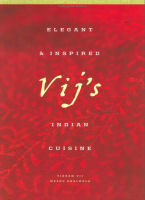 You'd think that after torturing myself for three months, poring over recipes that I couldn't begin to attempt without a proper kitchen, I'd be able to choose one or two candidates from a single cookbook. But there were so many delectable-sounding recipes in the copy of Vij's: Elegant & Inspired Indian Cuisine that my sister gave me for Christmas, I finally had to force myself to pick a couple at random.
After much deliberation, I set my sights on a buttermilk curry, which Vij admits "from a visual point of view … won't win any prizes". Hey, if a dish is ugly enough to require forewarning, and it still makes the cut for inclusion in your restaurant's signature cookbook, it must be pretty tasty. And indeed it was: Scented with cloves and cardamom, and thickened with mashed potato, the comforting stew-like dish reminded me of a Thai massaman curry. (No big surprises there, as the Thai dish was originally brought over from either Persia or the Subcontinent, depending on who you ask.)
True to Vij's disclaimer, it looked for all the world like the stuff you'd scrape off the top of a simmering stock, an unappetizing mass of curdled dairy and greying meat. But inside each bland-looking cube of meat lurked a secret: Vivid, almost violet-hued shreds of beef, meltingly tender and softly perfumed with spices. The sauce, too, came together into something a bit less rotten-looking in the last few minutes of simmering. Although it never turned into the proverbial swan, I suppose I could admit this curry was a slightly less-ugly duckling on the plate than it had been two hours earlier in the pot.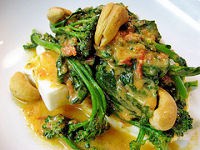 I don't think I consciously picked a gorgeous dish for my second recipe, but that's certainly how Sauteed Greens and Paneer turned out. I hope you won't think I'm being immodest when I say it looked almost as good on the plate as it did in the cookbook photo; I mean it as a compliment to the recipe, not to my (admittedly weak) food-styling skills. Despite being listed in the book's appetizers chapter, this savory melange proved plenty rich enough to serve as a very satisfying vegetarian entree, or to divvy up into smaller portions for a true starter.
I've been lucky enough to eat at Vij's famed Vancouver restaurant — and its take-away branch next door, Rangoli — on trips to Vancouver a few years back. Both of these recipes felt true to the flavors and presentations I remember enjoying there, modern Canadian riffs on traditional Indian flavors that somehow managed to avoid the caricature-like glitches that mar most fusion cuisine. Both restaurants seem like the kind of places where we'd eat a lot if we lived nearby, or even if we visited more often. Since a trip to Vancouver isn't be in the cards for a while, I'm looking forward to delving deeper into this gorgeous collection of recipes. But on the strength of these two dishes alone, this book's already a keeper.
Please note: The recipes below differ slightly from the published versions, mostly because I scaled them to match the quantities of raw ingredients I had on hand. I also clarified some instructions that I found confusing on the first read-through.
Sauteed Greens with Paneer
14 whole raw unsalted cashews
1/2 pound raw spinach
1/2 pound rapini (aka broccoli raab, choi sum, etc.)
1/4 cup vegetable oil
1-1/2 tsp. cumin seeds
1 cup pureed tomatoes (about 2 medium)
2 tsp. ground black mustard seeds
1/4 tsp ground turmeric
1 tsp. salt
3/4 tsp. cayenne pepper
1 cup water
4 oz. coconut milk, stirred
6 oz. paneer, brought to room temperature
Toast the cashews in the oven (3 minutes at 375, stir, 3 more minutes) or on the stovetop; let cool.
Cut the tougher stems off the spinach and the rapini. Heat oil in large frying pan for 1 minute. Add cumin seeds, stir and allow to sizzle for 30 to 45 seconds. Add tomato puree, mustard seeds, turmeric, salt, and cayenne. Stir and reduce heat to medium-low, then cover and cook for 5 minutes. Remove the lid and stir. The top of the sauce should glisten with oil; if it does not, cook uncovered another 1-2 minutes.
Stir in water and increase heat to medium-high. Bring to a boil, then reduce heat to a steady simmer, and cook for 5 to 8 minutes, until sauce thickens. Add coconut milk, and continue cooking until the mixture starts to simmer briskly. Add greens and cook for 2 minutes or until well wilted, stirring regularly.
Slice the paneer into 4 pieces the long way, then slice each half again to make vaguely square-ish blocks. To serve 2 as a vegetarian entree, place half of the slices in each bowl; to serve 4 as an appetizer, divide among 4 bowls. Using a tongs, place the greens on top of the paneer slices, leaving the corners peeking out. Spoon the curry sauce over and around the greens, again taking care to leave part of the paneer visible. Top the greens with the cashews, and serve.
Buttermilk Curry
3 cups buttermilk
3/4 cup water
2 pounds lamb or beef stew meat, in 2-inch cubes
1-1/2 tsp. coriander seeds
1/3 cup vegetable oil
1T cumin seeds
2T chopped garlic
10-15 2-inch pieces of dried red chiles
10 cloves
1 tsp. cardamom seeds (not pods)
2 tsp. salt
1 medium potato, peeled, boiled, and mashed
Pour buttermilk into a large mixing bowl, and add the meat. Mix well. If there is not sufficient liquid to cover the meat, add enough of the water to do so, and mix again. Cover the bowl with plastic wrap, and refrigerate 6 hours, or overnight.
Lightly pound the coriander in a mortar to break the seeds in half. Heat oil in a pot over medium heat for 1 minute. Add cumin seeds and cook until they pop (30-45 seconds). Add garlic and saute for 5 minutes, or until golden. Add remaining spices and salt; stir well and cook 3-4 minutes.
Add marinated meat, buttermilk, and remaining water. Stir continuously and bring to a boil. Reduce heat to medium-low, cover, and cook for about 1 hour. Remove the lid and stir in the mashed potato. Cover the pot again, and cook for another hour, until the meat is tender.
Remove the cloves before serving, or warn your guests to expect them. Serve over rice.