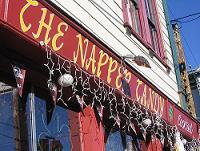 I just loves me some lunch at a pub, I do I do. To be fair, I love eating at the bar just about anywhere. But a pub lunch is special: a good one is an oasis of calm happiness, and a great one can transform an entire day.
The Napper Tandy in the Mission District of San Francisco falls solidly into the "good" category. On the right day, it might make a serious push for "great". The Tandy has all the trappings of the sort of place that on Friday and Saturday nights serves raunchily named shooters to the loudly drunk. But in the afternoon and early evening, it attracts locals, laborers, and workers either on their way to or returning from shifts at other food-service businesses.
There's a happy mix of beer on draft: nothing too adventurous, but you can get Smithwick's and Guinness pulled with reasonable skill. The menu has plenty of choices and, if the fish-and-chips are any indication, the kitchen can be trusted. To be fair, it's unlikely that any of the food at the Napper Tandy is as first-rate as the fresh, house-cut chips. But those chips are so damn good that even getting close to the mark would be a worthy accomplishment.
The Napper Tandy
3200 24th Street
San Francisco, 94110
415.550.7510