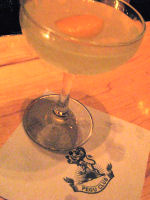 Another citrusy drink from last week's visits to the Pegu Club. Although the original recipe calls for 1/4 ounce of simple syrup, Nate made it for us without — and it definitely tasted plenty sweet from the Chartreuse. On paper, it feels like a Friday After Five, but the missing anise and green-herb notes prevents the similiarity.
Cloister
1-1/2 oz. gin
1/2 oz. yellow Chartreuse
1/2 oz. grapefuit juice
1/4 oz. lemon juice
Shake all ingredients with ice, and strain into a cocktail glass. Garnish with a twist, preferably grapefruit.