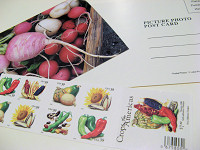 As part of Meeta's Postcards Around the World event, I just shipped off a valentine to …well, I can't tell you who, but I can say that she's a foodblogger who lives in a country that I love to visit, appropriately enough.
I've never been to this blogger's town, but — as I now know from Googling — it shares many similarities with San Francisco, including "a superb choice of restaurants" (according to the local tourism council), an historic waterfront, and a brewery that's been turning out well-regarded ales since the Victorian era.
The valentine I'm sending is a photo I took a few weeks ago at the Ferry Plaza Farmers Market — featuring radishes in reds, hot pinks, and other valentine colors — with a postcard sticker on the back. (Not surprisingly, finding a food-related postcard is hard enough, but finding one that's holiday-specific is impossible! And besides, it was fun making my own card.) Of course I'm using some of the Crops of the Americas stamps that I've been hoarding, too.
Somewhere out in the blogosphere, another food blogger is getting ready to send a valentine postcard to me, too. I can't wait to get it!