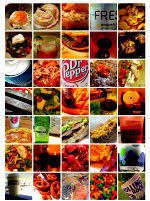 Thank God it's Monday! I thought that I took a lot of pictures during a normal week, but participating in Sam's challenge had me (along with my family, my friends, and my co-workers) questioning my sanity.
But I had a lot of fun. Being tasked with photographing simply everything I ate or drank meant that I really had to get creative, and think of ways to turn even the most boring foods and beverages into something worth looking at.
A number of folks have asked me if the added scrutiny has changed what or how I ate, and I can honestly say "no" — although I'd qualify that with "…other than to choose the more photogenic option among equally appealing choices." And really, even that minor self-editing only happened on a couple of occasions: When picking out a sweet snack from the vending machine at work (the Kit Kat shot), and when opting for a cold turkey-and-avocado sandwich over a hot turkey sandwich yesterday afternoon. I'm guessing this would have been a lot harder on a non-holiday week, although I am certainly not angling to repeat the experience soon.
Shooting food at the office wasn't nearly as difficult as I expected. We have some good natural light, supplemented by good task lighting. The flip side of that is that the desert light here at my parents' house is either gorgeous, or brutal, and not always optimal at the times of the day you'd suppose.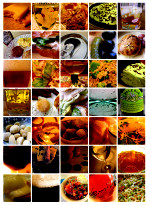 I'm also surprised that I only forgot to take a photo of one thing — a glass of wine I had at a friend's house one evening. (I promptly took a picture of a similar glass at home, as soon as I remembered, and poured the wine back into the bottle. What, me, obsessive?)
Speaking of neurotic behaviors, my inner perfectionist hated having to post pictures of *everything*, especially the night we ate at Bouchon. I really enjoy the editing process… not only the tweaking of photos, but deciding when a shot just isn't good enough to save or share. I didn't have that luxury here, so there are photos on Flickr that would ordinarily have been consigned to the bit bucket.
Click "View Slide Show" below for the Slide.com roundup — which is supposed to display inline here, but isn't, for some reason — or check out the whole set on Flickr, where you can comment on individual pix.