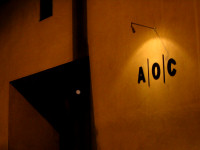 I hadn't planned it this way, but we ended up eating at small-plates restaurants both Friday and Saturday nights of our L.A. trip. I'd made reservations at the wildly popular AOC a couple of months ago, and — without thinking — added Violet to the mix as I searched for a restaurant that would serve good food relatively late, and wouldn't take us too far off the path between LAX and our Brentwood hotel.
When I realized what I'd done, we toyed with canceling our reservation, but we'd also pulled the ripcord on AOC on our last trip. So, we decided to stick with the plan, as it's a relatively difficult place to get into on weekends and we didn't know when we'd be back in El Lay.
We arrived in the neighborhood 20 minutes or so ahead of time, so we circled the area in search of street parking. Coming up empty, we turned our (very un-upscale) rental car over to the valet, and made our way inside. Or, at least as far inside as we could manage. At least three other couples were wedged into the foyer, and another pair perched on barstools around the corner. After a 10-minute wait for an audience with the hostess, we announced our name and reservation time. Searching, searching… no luck.
"When did you make the reservation?" she asked.
"Oh, probably five or six weeks ago," I replied, consulting my Treo's calendar. Yep, there it was: 8pm, Saturday, November 4. Just to be sure, I dialed up Open Table on the browser, as the hostess looked through her phone logs and people stacked up out the door.
"Here it is," I said, turning the screen to show her, "8pm, November 4 on Open Table."
"But we don't have Open Table."
…Silence…
"Um, this is AOC?" Yes.
"Is there another AOC?" No.
"Well," she finally admits, "We did have Open Table for about a week, but we hated them and took it out."
"OK, but here I have a confirmed reservation that neither you nor Open Table has canceled. How was I to know this?" I wondered aloud.
She asked us to wait a few more minutes, and assured me she would work something out. And, in fairness, she did: Ten minutes later, we were escorted through the dining room, past the charcuterie cooler, and upstairs to the enclosed rooftop patio, a spot that easily could have felt like being banished to Siberia, but actually resonated with cozy and intimate warmth, the white tent-like walls glowing with diffused light and the sky peeking through shades.
Our waitress appeared, offered us bottled water, and instructed us that two or three dishes per person would be "a good amount." The menu's a slightly longer list of dishes than at Violet — half a dozen salumi platters, salad-y choices, fish, meat, and a section of items from the wood oven — supplemented by a full page of artisan cheeses (AOC is, technically, a wine bar).
After nibbling on delicious marinated black olives and a tapenade spiced with smoked paprika and a hint of citrus, we started with a plate of Fra'mani salumi. I was particularly taken with the Nostrano and Cameron loved the Gentile, but all of them were quite tasty and well presented. Next up was a lovely and deceptively simple salad of crisp apples, walnuts, bitter greens, aged goat cheese and little slivers of red onion that you hardly noticed, but kept all the flavors dancing together.
Cameron pounced on the three fried oysters that followed the salad, but pronounced them a good news/bad news story: crispy, juicy and fresh, but blobbed with a dollop of cayenne aioli that flirted with greasiness. On the side, a lovely remoulade paired julienned celery root with a mustardy mayonnaise. The fourth dish, an open-faced riff on a croque monsieur, put the frisee that's usually found on the side in between a slice of brioche and the top layers of egg, gruyere, and prosciutto. Again, delicious… but a bit overdressed, making the bread soggy and sour.
I paired the initial courses with a deeply-colored but otherwise unremarkable French rosé, while Cameron enjoyed a three-glass flight of sauvignon blanc from the Loire valley. For the last two plates — braised beef cheeks and fingerling potatoes crushed with gallons of butter and gilded with crème fraîche — we shifted gears to sterner stuff. I chose a glass of Flowers pinot noir/syrah (which was as good as I remembered), and Cameron opted for a cabernet from Napa's 75 Wine Co. The beef cheeks were tender and very good, but the potatoes were positively orgasmic, brimming with fresh, potato-y flavor and skins that went snap.
Would that the service had been anywhere near as good as anything that we ate. Our waitress (one could hardly call her anything else) could have taught finishing school at a truck stop. Loud and ungraceful, she paired inattentive service with inappropriate comments — including "Wow, you guys wolfed that down!" screeched loud enough that other diners turned to gawk, at one point.
We also suspect that she botched the table numbers on our orders, as well as those of others near us, as we spent the night fending off dishes that we hadn't ordered, waving at our plates as they headed for other nonplussed diners, and twiddling our thumbs between courses. By the end of the meal we were so fed up that we didn't even glance at dessert, which is completely out of character for us. No matter how stuffed we are, we'll always at least look at the menu.
But while we were done with AOC, AOC was not done with us. Cameron handed the ticket to the valet, who brought the car around, handed us the key, and bundled us in. But as we were about to take off, the valet rapped on the window, which Cameron rolled down, only to be asked if he had paid the as-yet-unmentioned $4.50 parking charge. Thoroughly exasperated, we pushed a five-dollar bill at the man (who we'd already tipped generously), punched the rental into "D", and putt-putted into the night.
AOC
8022 W. Third Street (near Fairfax)
Los Angeles, CA 90048
323.653.6359