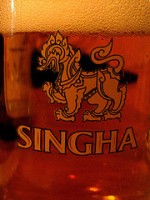 Thais revere the lotus as a symbol of Buddhism: It's a beautiful, symmetrical flower that thrives in the dankest, most polluted cesspools. So perhaps it's apt to find Lotus of Siam — one of the most celebrated Thai restaurants outside of Thailand — in a sketchy area on the edge of downtown Las Vegas. Specifically, it's smack in the middle of a dimly lit, semi-derelict shopping center with the Stratosphere tower looming in the distance. This outdoor mall full of businesses with an illegitimate air features a parking lot that looks quite like a great place to get mugged. That said, it also looks like a great place for ethnic food finds, with a Jalisco-style diner that serves only birria — try saying "birriraria" right on the first try — sporting a goat-head logo, plus a Korean bar-cafe and a plenty of other places lacking any sort of English signage.
Once inside the door, it's hard to miss the wall covered with accolades, but the parking-lot experience prepares you for the rest of what you see: A slightly run-down but brightly lit space without a smidgen of pretense. A large buffet steam table takes up the center of the room (it's used at lunchtime, weekdays only) and Formica-topped tables are set with paper placemats and restaurant-supply cutlery. This isn't a bad thing, in my opinion… in fact, it probably served to raise my expectations. If so many foodies think this place is amazing, I figured, they're obviously not being misled by any fancy-pants décor.
If you've come looking for pad thai or green chicken curry, you won't be disappointed — all the familiar favorites are present and accounted for. There's also a selection of what could charitably be called oddball dishes, things like shrimp tempura, fried wontons and chop suey that left me a bit worried that I'd mistakenly stumbled into one of those terrible Seattle "Thai" restaurants — the ones where they bring you chopsticks and ask "how many stars?" to gauge your chile tolerance. My nervousness was put to rest by the middle section of the menu — a collection of specialties from Isaan province, and another page of Thai dishes that I have rarely, if ever, seen on American Thai menus… things like sour sausage, crispy catfish salad, and choo-chee freshwater prawns.
Mom's not as much of a fire-eater as I am, so I picked through the likely suspects, looking for dishes that would give us a good sample of styles without blowing our heads off. We started with a pair of stuffed chicken wings, a classic appetizer where deboned wings are restuffed with pork, mushroom shreds, and plenty of spices, then rolled in panko and deep-fried. Ours turned out to be mysteriously dry despite plenty of stuffing, but the accompanying sweet-sour sauce helped a bit.
Next up, a generous portion of chicken larb, served with a few slices of cucumber and a wedge of white cabbage. The sparseness of the presentation belied the execution: A perfect balance of sour-salty-hot.
Last, we split a bowl of kao soi, a northern curry-noodle dish I'd first enjoyed — and fallen in love with — during our January Thailand trip with Kasma. Although I've made kao soi at home a couple of times since then, I haven't managed to salve my cravings. Luckily, Vegas is closer than Chiang Mai… and Lotus of Siam's drier version of kao soi — garnished with fried noodles, pickled vegetable, red shallots, and lime wedges — may be the favorite of any I've tried. The noodles were firm but supple, the sauce perfectly balanced between sweet and hot, the tender beef pieces adding a salty-meaty contrast every few bites.
If you've spent any time at all reading online food boards, you've almost certainly stumbled across someone (or some-twenty) raving about Lotus of Siam in Las Vegas. They throw out phrases like "the best Thai restaurant in the country" and "there's simply nothing else like it anywhere", and wax rhapsodic about the stunning flavors.
But this collection of over-the-top raves is really doing the place a disservice. It's a creditable Thai restaurant, and they certainly serve some of the best Thai food I've had since San Francisco's Thep Phanom took its nosedive into mediocrity. Every dish we tried was tasty and properly balanced, the service was attentive and welcoming, and the menu's impressive in its diversity. And, of course, there's an undeniable pleasure of finding such a gem amid the underbelly of Old Vegas seediness.
But unless you've spent your life eating ketchup-y pad thai, Lotus of Siam is not going to change the way you think about Thai food. But that's not the point, nor should it be. If you go expecting a palate-altering experience at a trek-worthy temple of gastronomy, you'll certainly come away disappointed. Go, instead, hungry for a well-made, casual dinner in an atmosphere that couldn't be less "Vegas" if it tried.
Lotus of Siam
953 E. Sahara Avenue
Las Vegas, NV 89104
702.735.3033