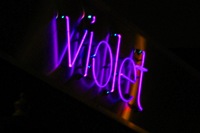 Thanks to Cameron's luck getting onto an earlier flight, we walked in to Violet a good 20 minutes before our reservation time. Greeted by a casually dressed but stylishly coiffed (and inked) host, we were seated almost immediately, and began perusing a list of seasonally inspired dishes, and a pleasantly extensive list of wines by the glass.
Our busboy appeared — bottles in hand — to ask if we preferred sparkling or still water. (I'm still of two minds about whether I found this annoyingly presumptuous or thoughtfully clever… I'm on the side of the latter, but I can't put my finger on why.) Our waiter followed close on his heels, asking if we'd been to Violet before, and suggesting 5 to 6 dishes would be a good amount for the two of us.
We didn't need to spend much time debating our choices — we easily found six dishes that appealed to both of us… a lucky thing, since the noise level (even at 9pm) precluded involved negotiations. Still, we enjoyed taking in our surroundings, a cozily-lit space with a modern palette.
Our first wine choices from the eclectic list turned out to be clear winners: A steely French rosé from Bieler, and an Alois Lageder pinot grigio with a flavor profile that seemed much more Gallic than Italian. A salad of grill-kissed Little Gem romaine combined bacony avocado and shreds of an unbilled Parmesan-like cheese to create a subtle Caesar-like effect, with an autumnal richness. Next up, a dish of ahi tuna tartare lacked flavor despite being overdressed with a ponzu dressing, and some of the fish was far too fishy to be enjoyed in the raw.
Our second set of dishes included a gorgeously indulgent take on macaroni and cheese, liberally dosed with gruyere and a smattering of Serrano ham bits. A pair of lightly breaded pork scaloppini served in a rich pan sauce rounded out the savory tastes. We enjoyed another couple of obscure, delightful wines with these dishes: A hearty and funky Gran Feudo crianza, and a hotly alcoholic but rather drinkable Velonosi rosso piceno.
None of the desserts screamed out for attention — will someone please tell chefs that crème brulee and molten chocolate cliché need to be left alone to die? — but we settled on a Key lime tartlet, which came with a dollop of unsweetened whipped cream to set of its lime-curd-like filling. Cameron chose an unremarkable (but always pleasant) Taylor tawny port; I enjoyed a stem of the Nivole — a floral-nosed bubbly that reminded us both of a lightly sparkling Muscat de Rivesault — suggested by our waiter.
Throughout the meal, our server Trevor kept a close eye on us, pacing the meal perfectly, and always appearing just when we'd thought of something we needed. After tax but before tip, the cost for this little pearl of a meal: $109 (more than half of which was the bar tab).
Violet
3221 Pico Blvd. (near 32nd Street)
Santa Monica, CA 90405
310.453.9113