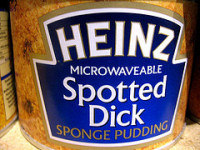 I don't know what, exactly, I was expecting of International Marketplace. I suppose I had a specialized supermarket in mind, like Seattle's squeaky-clean Uwajimaya, or the frayed-at-the-edges 99 Ranch stores in the Bay Area. But neither of these notions prepared me for the reality.Set a few blocks past the freeway, west of The Strip, this enormous warehouse-like space is more like a Costco for imported food than like any supermarket you've ever seen. In fact, it's not even exclusively food-centric: If you're in the market for gaudy Eastern European statuary or Asian-made Disney fleece blankets, this is the place. But the mainstay of International Marketplace is food, and to a lesser extent, the tools with which to prepare it.
Along the south side of the building, you'll find mostly European and New World fare, like Greek pickles, Dutch sweets and British cordials. The rear of the store includes a small but exotic produce selection, a bit of cheese, some meats, and a service counter for seafood – alas, no live creatures other than lobster. Across from the fish counter, though, is the largest collection of kimchee you're likely to see anywhere outside of a large metropolitan Koreatown.
Crossing the main aisle, you find yourself in among goods from all over Asia and the Pacific, from Hawaiian shoyu to Filipino pancit, Japanese tonkatsu sauce to Thai dessert-making ingredients. Moving back to the front of the store, you'll find three rows of housewares: Cutting boards in every color of the rainbow, steamers of all sizes, and clever containers galore.
As you make your way to the checkstands, you'll inevitably find it hard to resist a small detour through the collection of plates and bowls on offer. It's enough to make you want to throw out your dirty undies to make room in the suitcase for a few tiny dishes.
International Marketplace
5000 S. Decatur Blvd. (at Tropicana)
Las Vegas, NV 89118
702.889.2888
Note: All prices on the shelves reflect a 5% member's discount, but most items seemed competitively priced (presuming that you could find them elsewhere at all).