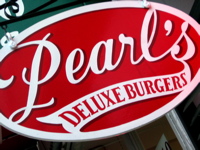 I'll cut to the chase: I think Pearl's — the newish SF outpost of a Mill Valley icon — has a lot of potential, especially if you order correctly. Someone's obviously put a lot of thought into the menu, where you'll find gourmet-ish upgrades like buffalo burgers and natural beef (for an extra $1.25-$1.50) and seasonal fresh-fruit shakes, alongside Pink's-style gutbombs like The King: "A 1/4 pound burger crowned with a hot dog, cheddar, American cheese, and thousand island dressing." Whoa.
The place is clean and crisp, without feeling sterile. Counter service was on the ball, and the prices seemed in line with similar joints: We paid a bit more than $20 for the two of us. You could see the fresh fruit for shakes in pourable containers in a little fridge near the register, and everyone backstage looked like they knew what the hell they were doing. They even offered frings, so I didn't have to choose between two equally appealing side orders… sa-weet.
Unfortunately, I was so distracted by the surprise option of fries with rings that I didn't specify what kind of cheese I wanted on my Pearl's Deluxe, so I got some particularly nasty American technicolor-orange stuff. The theoretical 1/2-pound patty was flat, machine-made, and downright industrial. It came with a decent, but obviously store-bought bun, plus nice leafy lettuce, cardboardy tomato, and sliced onions. The meat was cooked to medium — as they said it would be by default — but tasted manky enough that I don't think I'd dare order it again.
Cameron wisely opted for the natural-beef upgrade on his mushroom-bacon burger; his Jack cheese tasted a little less processed than the American, the 'shrooms were good (although they paled in comparison to those at Joe's), and the patty looked like it had been formed by human hands. Unfortunately, they'd cooked the living daylights out of it. Medium? Nononono… this poor patty was scorched to fare-thee-well-done. Still, it remained reasonably juicy and definitely worthy of another try.
How 'bout those sides? Both fries and rings were from a bag, but actually tasted like someone had bothered to find the best premade versions they could get, rather than the cheap, sugar-coated nasties you find most places. Similarly, Cam's vanilla malt — although made with soft-serve ice cream — was actually creamy and malty, without the gloppy texture you usually find with extruded dairy.
Will we go back? Probably, yeah. But I'll stick with the natural beef, make sure to specify real cheese, and ask for my burger to be cooked medium-rare.
Pearl's Deluxe Burgers
780 Post Street (at Jones)
San Francisco, CA 94109
415.409.6120