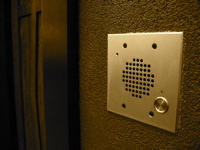 After waiting expectantly for word of the Bourbon & Branch grand opening, we made reservations a few days ago. We received an email moments later with the speakeasy's top-secret address — but alas, no secret password. We arrived a bit early for our 8pm reservation last night, and found the location without much trouble, thanks to an amusing sign. After buzzing the doorbell, we were admitted to an incredibly dark space and greeted by the bartender; a hostess asked for our reservation details and seated us after some initial confusion.
As our eyes adjusted, we saw that our booth's table was actually a tapered, foot-wide plank with an inset mirror. It was difficult to read the menu — a multipage tome housed between wooden covers with the new B&B logo laser-etched into the grain — by the light of the small oil candle, but we recognized a few worthy favorites from our Zig Zag days, including the Aviation and the Drink with No Name.
Once we fully got our bearings, the space felt more than a little hokey, like a community-theater set for a working-class '20s bar. We both loved the pressed-tin ceiling and the multilevel layout, but the red flocked brothel-style wallpaper seems rather twee, and the whitewashed brick wall behind the bar, garnished with votives in glass holders, feels more Southwestern than speakeasy. Even the bathroom design was more than a little off: black walls, black floor, black loo, black basin… lit by four candles and a single dim bulb. Honestly, is it too much to ask for a little light?
After a thorough perusal of the menu — accomplished while twitching every time my eyes lit on one of a dozen typos — I opted for a drink called The Avenue: Bulliet bourbon, Calvados, passionfruit juice, grenadine, and orange-flower water; Cameron asked for an Aviation. Our waitress (a laconic Latina sporting a plunging neckline and an utterly unnecessary push-up bra) returned a few moments later, letting me know that they were out of the juice for my drink. I reverted to my standby, the Old Fashioned, heartened by the menu's claim that B&B uses the original recipe. I also asked for a glass of water, and she offered still, sparkling, or tap. Maybe I don't get out enough, but this was a first for me: Paying to stay hydrated in a bar.
Drinks arrived promptly, and we started to notice the table's flaws. Even with only two of us at a four-top, it seemed impossible not to find something — a glass, a candle, a bulky menu — to knock, nudge, or otherwise propel into the darkness. Cam pronounced his Aviation heavy on the juice; I thought it tasted good, if not particularly balanced. My OF was served in a properly sized glass, a diminutive single-rocks number. As I sipped it, it became apparent that its only fruit was the wide lemon-twist garnish… no muddled orange!? Believe you me, I despise those fizzy messes of mash that most bars pass off as Old Fashioneds, but this vintage version was a bit too austere for my tastes. (Still, it's hard to complain too much about a barkeep reverting to an antique formula.) My water was refilled as needed; Cameron was never even offered his own glass — a mortal sin in my book. Good bars serve water without asking, and keep glasses full; you're happy while you're drinking, and you're even happier the next morning.
Our second round included a Vesper for Cameron — not listed on the menu, but properly concocted (with perhaps a gilding of orange bitters?) and served in a petite v-glass — and a Spanish Rose for me. The latter was noted in the menu as one of the bar's signature "drinks from people we like," credited to a former Enrico's cocktail-slinger. The recipe included Plymouth gin, Licor 43, lemon (juice, presumably?) and a sprig of rosemary. Sounds good so far? Picture it served in a tip-prone red-wine glass, over an astounding amount of ice. It tasted pretty good, but I was utterly embarrassed to drink this foofy pink monstrosity in a place that's so damned cocktailian that they prohibit patrons from ordering a Cosmo.
We gave up our table well before our two-hour slot elapsed, having run out of excuses for staying. We'll come back and give B&B another whirl some night at the bar — the folks up there definitely seemed to be having a more interesting time.
Bourbon & Branch
a secret location near Jones & O'Farrell
San Francisco, CA 94102