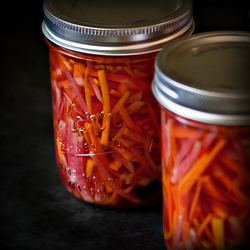 If you've ever wanted to try your hand at canning but held back because it seems complicated, consider getting yourself into a pickle.
Pickles are one of my favorite canning projects, because I am both lazy and messy. When dealing with simple brine — instead of the sticky goo of preserves, or the splattery plop of tomatoes — canning becomes almost too easy. You prep your vegetables, mix the pickling liquid, and put everything into jars. And because of most pickles' high acidity, the chances that anything bad will happen during storage are practically nil. They're the perfect beginner's canning project.
The best part is, you don't even have to wait until cucumbers are in season. Sure, those dilly spears are America's favorite pickle, but canning books are jammed full of an international variety of vinegar-preserved vegetables. Even the bleakest winter farmers market usually has a decent assortment of root vegetables, and many of them — especially carrots and dense radish varieties — make excellent pickles.
If you've ever eaten the Vietnamese heaven-on-baguette sandwich known as banh mi, you've almost certainly enjoyed the type of pickle I made for this month's edition of Tigress's CanJam. Typically made with little more than carrots, daikon, ginger, vinegar, and salt, the version here adds star anise to give the julienned garnish a mysterious note.
They're rather on the sweet side, but that makes a nice foil for the meaty, salty goodness of their signature sandwich partner. As the canning gurus at Ball tell us, "The job will go faster if you have a mandoline to julienne the vegetables". But I managed a half recipe using just a very sharp knife and a lot of patience.
Vietnamese Carrot and Radish Pickle
- from the Ball Complete Book of Home Preserving
3 C white vinegar
3 C filtered water
1-1/2 C sugar
2 tsp grated ginger (microplaned)
2 pounds carrots, 1/8-inch julienne
2 pounds dense radish (such as daikon or watermelon) 1/8-inch julienne
6 whole star anise
Prepare canner, lids, and 6 pint jars according to the usual method.
In a large non-reactive saucepan, combine vinegar, water, sugar, and ginger. Bring to a boil over medium-high heat, stirring to dissolve sugar. Add carrot and radish; stir for 1 minutes, then remove from heat.
Place a star anise into each hot jar. Using a funnel, pack vegetables into hot jars up to just shy of 1/2 inch of the rim. Ladle hot pickling liquid to cover vegetables, leaving 1/2-inch headspace.
Remove air bubbles and adjust headspace; wipe rims and apply lids and rings.
Place jars in canner, ensuring they are completely submerged. Bring to a boil and process covered for 10 minutes. Remove canner lid; wait 5 minutes, then remove jars. Cool, check for seals, and store in a cool, dark place for up to a year.