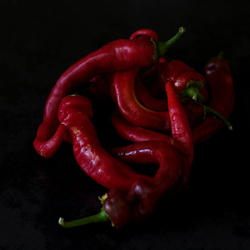 At this time of year, when the garden's finally kicking into high gear, and all of our favorite foods are in plentiful supply at the farmers market, I rarely pick up a cookbook, and hardly even use recipes.
The vast majority of our summer meals follow a dead-easy formula: A little bit of meat, usually rubbed or marinated and then seared on the grill; an unfussy starch, finished with a knob of fresh butter or a drizzle of olive oil; and big helping of vegetables, either in the form of a chopped salad or a simple saute. Usually, there's fruit for dessert — maybe paired with ice cream or cookies, if we're feeling fancy.
The few recipes that find their way out of the files are usually tried-and-true favorites, and this one is no exception. We've been making this succotash for nearly three summers now — it first appeared on the blog as a passing reference back in 2006 — and it feels like an old friend. We're finally seeing peppers in the market, so we hauled it out for the first time this summer, and enjoyed it as the centerpiece of this week's One Local Summer meal, alongside a grilled tri-tip with a Santa Maria-style rub (equal parts salt, pepper, and garlic granules, moistened with olive oil).
We've made some changes to the succotash recipe along the way, swapping out the original's summer squash (which neither of us really likes) in favor of other summery flavors like green garbanzos or late-season peas. But no matter how many  tweaks we make, it remains one of those tastes of summer that we anticipate all year long.
Summer Succotash
- adapted from Bon Appetit
1T extra-virgin olive oil
1 cup chopped onion
1 cup diced sweet red pepper
1-1/2 tsp fresh thyme leaves
2 garlic cloves, minced
4 ounces slender green beans, trimmed, cut into 3/4-inch pieces (~1 cup)
1/2 cup green garbanzos (or substitute mature favas or starchy peas)
1 cup fresh corn kernels (cut from 2 ears of corn)
2T cream
Heat oil in large skillet over medium-high heat. Add onion; reduce heat to medium and saute until beginning to soften, 2 to 3 minutes. Add pepper, thyme, and garlic; saute 1 minute. Add garbanzos and 1/4 cup of water; cover and cook until the garbanzos are just beginning to soften, 4 to 6 minutes longer. Add the green beans and saute until all vegetables are crisp-tender, about 4 minutes more. Stir in corn and cream, and saute until just heated through. Remove from heat, season with salt and pepper, and serve immediately.
---
Farmers and food artisans who created the ingredients for this week's meal:

Bariani
, Sacramento: Olive oil
Everything Under the Sun
, Winters: Red onions
The Peach Farm
, Esparto: Red frying peppers

Hunter Orchards
, Grenada: Garlic
Catalán Family Farm
, Hollister: Green garbanzos
Pinnacle/Phil Foster Ranch
, Hollister: Corn
Claravale Farm
, Paicines: Raw Jersey cream
…and our own homegrown thyme and green beans