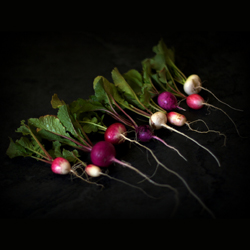 This week, we had so much going on that we lost track of our One Local Summer meal entirely. It's not that we didn't enjoy lots of fresh, fabulous treats from the market and our garden, we just weren't diligent about documenting any of them. Many dinners were repeats of past OLS post, or just the kind of no-recipe suppers thrown together on a summer evening.
We'd planned to make up for lost time at the end of the week, but other things came up — a touch of a sore throat, followed by a last-minute weekend trip — and we found ourselves empty-handed for this week's roundup.
Luckily, we had something we've kept in our back pocket in case of just such an eventuality. We first tossed this simple salad together back at the end of May, just as we were reaching the end of our first shelling pea crop. The plants had begun to die off, and we were ready to turn them back into the soil and plant another crop. But there were just enough peas left for one last splurge.
And actually, it's the perfect salad to enjoy at the beginning of a pea harvest, too — a place we find ourselves this week, with our second pea crop — or any other time you've got a mixture of mature peas, immature pods, and a few small tendrils. If you're a cleverer gardener than we are, and you've mastered the art of successive plantings, you can even use the thinnings from your next batch of peas, too.
But even if you buy every last stitch from the farmers market, you'll be rewarded with a light, fragrant salad, equal parts crisp and creamy.





Pea and Radish Salad with Feta
- loosely adapted from Bon Appetit
1 tsp cumin seeds
1 T fresh lemon juice
1/2 tsp honey
2 T extra-virgin olive oil
3 springs fresh thyme, leave stripped
1-1/2 cups fresh shelled peas
6-10 snow peas (or immature homegrown peas), julienned
5-7 medium radishes, thinly sliced
1/2 cup crumbled feta cheese (about 2 oz)
1-1/2 cups pea sprouts or very tender pea tendrils
Toast the cumin seeds in a small skillet over medium heat until aromatic, about 2 minutes. Cool the seeds, then grind in a spice mill or coffee grinder. In a small bowl, whisk together the dressing ingredients (cumin to thyme); season to taste with salt and pepper, keeping in mind that feta can be quite salty.
Blanch the peas in boiling salted water until just tender, about 3 minutes. (Timing will vary based on freshness, age, and size of peas.) Scoop peas out of the pan and into an ice-water bath. Repeat blanching with the snow-pea strips; this will take about 1-2 minutes.
Drain peas and snow pea strips very well. Combine them in a medium bowl with the sliced radishes and crumbled feta. Drizzle with about half the dressing and toss. Taste and add more dressing, salt, and pepper as needed.
Divide pea sprouts or tendrils among 2 or 3 wide salad bowls, and top with the dressed salad. Serve at once.
---
Farmers and food artisans who created the ingredients for this week's recipe:

Marshall's Farms
, American Canyon: Honey

Bariani
, Sacramento: Olive oil
Spring Hill Cheese Company
, Petaluma: Goat feta
…and our own homegrown lemons, thyme, peas, and radishes