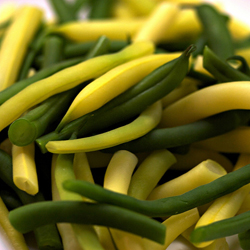 A few weeks ago, we headed down to Los Angeles for a quick getaway. Ostensibly, the occasion was our seventh(!) wedding anniversary, but truthfully the real purpose of our trip was to eat at all the places we'd been adding to our ever-expanding "must-try" list.
At the very top of said list was Pizzeria Mozza, the newish joint venture from Mario Batali and Nancy Silverton. After hearing rave reviews from pretty much every newspaper, magazine, blog, and friend, we decided to schedule Mozza in a prime Friday-night slot, to make sure we were getting the A-team of cooks and servers.
I won't bore you with the litany of every thing that went wrong that night — we're over the tedious exercise of writing negative restaurant reviews — but here's the short version: Unexciting food, abysmal service, and pacing so unbelievably rushed that we were back in our car just 29 minutes after our first (and only) glass of wine hit the table. Seriously.
But every cloud has a silver lining. And at Mozza, that lining took the form of a fabulous melange of slender haricots verts, sweet shallots, crunchy hazelnuts, and creamy whole-grain mustard dressing (which, ahem, arrived in place of the roasted-cauliflower dish we'd actually ordered). Amid a menu of fair-to-decent dishes, this small plate stood out, and we quickly realized that we could easily duplicate it at home. We combed through every Batali and Silverton cookbook we own, but found nothing similar. However, Googling "beans + mustard + vinegar + hazelnuts" led us to a likely recipe — not from either of the Mozza chefs, but from Chef Dan Barber of New York's Blue Hill restaurants.
Although we're still a few weeks away from finding slim haricots at our market, their larger cousins are already becoming plentiful. And though hazelnuts aren't grown in the Bay Area, we have plenty of other local options. We opted for walnuts, but made them a little more decadent by rubbing off their skins after toasting them lightly in a pan. After that, the rest of the dish comes together in a matter of a whisk here, a blanch there. And when served with a quick-brined pork chop and the first new potatoes of the year — as we did, for our One Local Summer meal this week — it makes for a great summer side-dish.
Summer Beans in Grainy Mustard Vinaigrette
– adapted from Dan Barber
1 T finely chopped shallots
2 T balsamic vinegar
12 oz trimmed green and yellow-wax beans (about 4 cups)
1/2 T whole grain mustard
1/4 cup good-quality extra-virgin olive oil
1 T chopped chives
1 T plus 1/4 tsp salt
1/4 tsp freshly ground pepper
2 T blanched nuts (we used walnuts) toasted, peeled if desired, and coarsely chopped
Soak shallots in balsamic vinegar in a small bowl for 30 minutes; set aside for later use.
Fill a saucepan with 2 quarts of water and 1T salt; bring to a boil. Meanwhile, fill a large bowl with water and ice.
When water comes to a boil, add beans and cook until just tender, about 3 minutes. Drain quickly and shock beans in the ice-water bowl. When fully chilled, drain beans well, pat dry, and set aside.
Stir mustard into balsamic-soaked shallots. Gradually whisk in olive oil until blended. (If you'd like a creamier dressing, buzz with a stick blender until well emulsified.) Add the chives, 1/4 teaspoon salt, and pepper; stir until combined.
Toss dressing with beans and nuts until evenly coated; serve immediately.
---
Farmers and food artisans who created the ingredients for this week's meal:

Marin Sun Farms
, Point Reyes: Pork chop
Fox Barrel
, Fairfax: Hard cider (for brine)
Eatwell Farm
, Dixon: New potatoes
Dirty Girl Produce
, Santa Cruz: Shallots

Bariani
, Sacramento: Olive oil and balsamic vinegar
Dwelley Farms
, Brentwood: Green and wax beans
Boccalone
, Oakland: Whole-grain mustard
Glashoff
, Fairfield: Walnuts
…and our own
homegrown
chives and homemade chicken stock