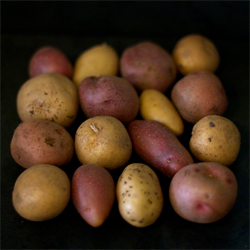 At our company Christmas party on Thursday night, the subject turned — as it often does in my culinary-obsessed office — to food. My boss's husband asked me an interesting ice-breaker question: 'What is your absolute favorite food?'
'Easy,' I replied immediately, 'Potatoes, no questions asked.'
He was a little taken aback by my prompt reply; apparently, usually people hem and haw, then pick two or three favorites. But not me. I'm a potato girl to the end, and the only food that even comes close is pork. But it's still second.
The quizzing continued, and I allowed as though I'd happily eat potatoes in any of their guises — boiled, hash-browned, french-fried, scalloped — but that my favorite-of-favorites had to be a big baked potato with butter and chives, salt & pepper.
About the only way I don't like potatoes is the way they happen to be served at nearly every breakfast joint in San Francisco: Nominally home-fries, they're irregularly shaped potatoes cooked on a giant flat-top griddle until they're watery inside and burnt to a char on the out. They're so universally terrible (and so terribly universal) that unless I know a restaurant serves shredded-style hash browns, I'll ask for something else as a side-order substitute.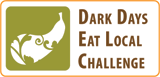 Of course, any recipe with the word 'home' right in its name really begs to be made at one's own stove, preferably while wearing pyjamas. And that's just what I did when it came time to clean out the larder before our trip to London.
We'd cider-brined a Range Brothers pork chop, and served it with O'Brien Potatoes, a sort of jumped-up version of home-fries recipe that, not-so-coincidentally, helped us use up a basket of new potatoes, a handful of tiny piquillo peppers, and a set of tiny onions, all in one fell swoop. Cameron seared the chop and then finished it in the oven, which gave him an excellent starting point for a sumptuous pan sauce (which used up the other half of the cider bottle, along with a little bit of chicken stock an a pat of butter. It was such a perfect accompaniment for the potatoes, they needed nothing more.
And as fridge clean-out meals go, it was a feast fit for a king.
Potatoes O'Brien
12 to 16 baby potatoes
1 small onion, diced
2 piquillo peppers, or 1 small red bell pepper, diced
1 clove garlic, sliced
oil or bacon drippings
parsley, for garnish
Boil the potatoes until tender but still firm, a few minutes less than you would for potato salad. Meanwhile, saute the pepper and onion over medium-low heat in a wide skilled with sufficient oil or fat to soften well; back off on the heat if they begin to brown. When the potatoes are done, drain and rinse in cold water. As soon as they are cooled off enough to handle, slice into wedges or wide slices. Add the garlic to the saute mixture, and cook for 1-2 minutes to begin softening. Add the potato slices, and stir to coat; you may need to add more fat at this point if you weren't generous with it at the beginning. Keep the heat on low, cooking the mixture together. Stir occasionally to check for sticking, but as little as possible to keep the potatoes intact and help with browning. When your main dish is almost ready, turn up the heat to medium or medium-high, and brown the potatoes to your liking, stirring once or twice to brown well on all sides. Season to taste with salt and pepper — if you used bacon fat, you won't need much — and serve with sour cream, pan gravy, or ketchup.