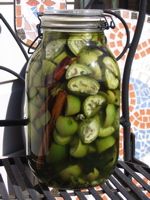 On Saturday, we harvested our first bergamot from the new tree. It was very light and probably overripe, so I didn't think it'd be worth juicing it, and frankly we have plenty of bergamocello (from commercial bergamots) this year, so no need for the zest. I decided to make a quarter-batch of Lucy's belle-mere's Vin d'Orange with it.
I also found green walnuts at the Alemany Farmers Market, and bought 4 pounds of them to make nocino. It turned out I had a few extras, so I also made a small batch of Paula Wolfert's vin de noix.
Now I just have to wait 40 days to find out how they come out.