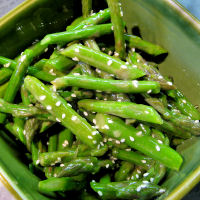 I'm slightly obsessed with my tattered copy of Big Bowl Noodles and Rice by Asian food guru Bruce Cost. It's my first choice when I need a comforting stir-fry or noodle dish, especially when I'm in the mood for Eastern flavors without a lot of fuss. But last week, while staring down a bunch of asparagus and looking for a suitable stir-fry side-dish, I came across one recipe that, shockingly, I'd never tried.
Like so many Big Bowl recipes, this salad manages to achieve a completely authentic flavor without any oddball ingredients. (Don't get me wrong: I love the bottom shelf of my pantry, stocked with goodies from Uwajimaya and 99 Ranch, but sometimes even adventurous cooks don't want another sticky bottle of imported exotica.) The simple dressing allows the natural beauty of perfectly fresh asparagus — one of my true springtime delights — to shine through, complementing and highlighting the fresh crispness without muddying flavors with overwhelming ingredients.
Asparagus Salad with Sesame Seeds
1 T sesame seeds
1 bunch (approximately 1 pound) fresh asparagus
2 tsp. rice-wine vinegar
3/4 tsp. red-wine vinegar
3/4 tsp. soy sauce or fish sauce
3/4 tsp. sugar
3/4 tsp. Dijon mustard
1 T fine peanut oil
2 tsp. sesame oil
In a small skillet, toast the sesame seeds until golden, shaking the pan so they don't burn.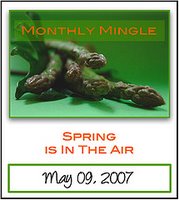 Remove any woody ends of the asparagus, cut the stalks into 2-inch lengths. Parboil them in 6 cups of heavily salted water for 2 to 3 minutes, depending on their thickness. Drain and run under cold water to stop cooking. Dry thoroughly. (Once perfectly dry, the asparagus may be chilled, overnight, in a loosely covered container. If you leave any moisture, it will make the spears mushy.)
Mix together the vinegars, soy or fish sauce, sugar, and mustard. Whisk in the oils, as you would for a vinaigrette. Toss the dressing with the asparagus, and sprinkle with the toasted sesame seeds.