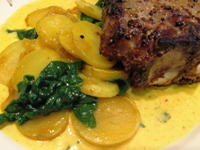 If you've spent any time on food blogs, I'm sure you know Barbara of Winos & Foodies — the creator of one of my favorite blog events, Hay Hay, It's Donna Day. Barbara asked her food-blogging friends to participate in a new blog event called A Taste of Yellow by preparing a dish containing some type of yellow food. On May 16 — in honor of the Lance Armstrong Foundation's LIVESTRONG Day — Barbara will post a roundup of the Taste of Yellow posts. She's collected almost 30 so far!
Our entry for A Taste of Yellow has languished in my "to try" file for a while, and I wish we'd made it sooner. It turned out to be so easy and tasty, it's sure to become a standby in our house. In honor of Barbara's New Zealand locale, we served the yellow potatoes alongside grilled lamb chops (in a yellow curry sauce, just to be double-sure we had the theme covered). Both the curry and the potato recipe came from the Vij's cookbook, which you may remember from the gorgeous paneer dish we mentioned last month.
Turmeric offers many health-giving effects. The ginger-like rhizome has been used medicinally in traditional Asian and Indian practice for centuries. It acts as an anti-inflammatory and antibacterial agent, and its antioxidant properties have been shown to prevent free-radical damage that's been linked to cancer. In laboratory tests, turmeric's active ingredient has decreased symptoms of skin cancers, and reduced the incidence of chemically caused breast cancer in laboratory animals. Three current clinical trials at the US National Institutes of Health are targeting pancreatic cancer, multiple myeloma, and colorectal cancer using turmeric's main compounds.
And, of course, it's a gorgeous shade of yellow.

Vij's Turmeric Potatoes
1 pound yellow new potatoes
2 T canola oil
3/4 cup chopped onion (1/2 large onion)
1/2 tsp turmeric
1-1/2 tsp salt
1/4 tsp cayenne pepper
2 T water
3 oz baby spinach
Wash and scrub the potatoes, but do not peel them. Cut each potato in 1/4-inch rounds using a food processor or mandoline.
Heat oil in a heavy frying pan on medium heat for 1 minute. Add onions and saute for 5 minutes, or until golden. Add turmeric, salt, and cayenne; stir well and cook for 1 minute.
Add potatoes and water, and bring to a light boil. Gently stir the potatoes. Reduce heat to low, cover, and cook for about 10 minutes. If the potatoes stick or begin to burn, add another 2 T water. Gently stir the potatoes again. Cover and cook another 4 minutes, or until potatoes are almost done, but not too soft. Add the spinach, cover, and cook for 1 minute longer.