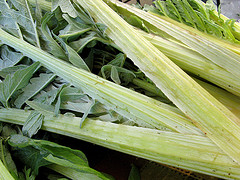 Yes, cardoons. Also nettles, green garlic, and pea vines. Ah, it's even beginning to smell a bit like springtime at the Ferry Plaza farmers market.
Since Cameron will be in NYC all week, and I follow him back on Tuesday, we weren't really doing our usual food-shopping rounds, although we couldn't leave without a gorgeous Prather Ranch rib-eye for the grill and some jumbo brussels sprouts to roast.
And we did manage to stock Cameron's bag with carry-on nibbles for his flight — petit sec from Fatted Calf and some sweet treats from the ladies at La Cocina. But mostly, we ate our breakfast, poked around, took a couple dozen photos (more than half of them floral, not food), visit with our favorite vendors, bump into a trio of old friends, and soak up just enough sunshine to make us forget all about the winter coats in our suitcases.
In between work and family time in New York, we'll do our best to post about our wanderings. We've got reservations at a few restaurants we've been longing to try, and a list of cocktailian haunts as long as your arm (thanks, Murray!). When we get back, expect a thorough kitchen-remodel update.