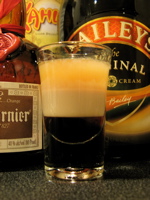 Most shooters have raunchy names that can't be printed on a blog that my mom reads, and/or ingredient lists that sound like a recipe for instant projectile vomiting. So, picking a drink for next week's episode of Mixology Monday — hosted by Rick over at Martini Lounge — feels a bit like being forced to buy clothes at the Goodwill: It's not going to be pretty, and the best you can hope for is something that won't make you embarassed to show your face among your peers.
In this case, just like second-hand garb, we decided it would be better to bypass the trendy and bizarre choices, and opt for a classic silhouette. Simple elegance in a shot glass, if you will.

The B-52
1 part Kahlua
1 part Bailey's Irish Cream
1 part Grand Marnier
Layer the liqueurs into a cordial glass in the order listed, carefully pouring over the back of a bar spoon to keep each one distinct.
Edited to add: This is one of those recipes where it's important to use the actual brand listed, rather than substituting. Different liqueurs have different specific gravities, which makes a difference when it comes to maintaining the integrity of the layers.
———
Remember, next month's exciting episode of MxMo will be hosted right here on MwD on April 16. Our theme is Champagne cocktails, so get those sparkling ideas ready…