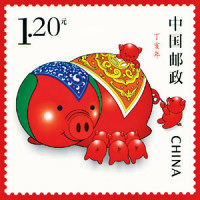 Happy Lunar New Year to all! We wish you prosperity and good luck for the coming year.
Today's the first day of 4705, so what better way to celebrate the Year of the Fire Pig than with some our our favorite porky recipes…
..from the MwD archives:
New Year's Cassoulet
Pear and Arugula Salad with Guanciale
Not-Spam and Eggs
Carnitas Tacos
Cochinita Pibil
..from swine-lovin' friends and fellows:
Homemade sausage from Cookiecrumb at I'm Mad and I Eat
Milk-braised chops from Dr. Biggles at MeatHenge
Devils on Horseback from Sean at Hedonia
Tartiflette from Lucy's Kitchen Notebook
Senate Bean Soup from Steve at Rancho Gordo
Larb from Molly at Orangette
Ants on a Tree from Matthew at Roots & Grubs
As soon as we start cooking and/or eating anything noteworthy again, I promise we'll be back with some original content.
And stay tuned for another remodeling update, too. (I'll be home on the 22nd, and Cameron says the kitchen is looking "so beautiful I want to sleep in it.")