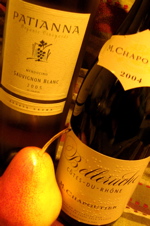 Always up for a challenge — and excuses to try new wines — we joined this month's Wine Blogging Wednesday, focusing on biodynamic wines. I thought we might have a difficult time sourcing an appropriate bottle, so I was pleasantly surprised when the wine merchant at Plumpjack Wines in Noe Valley identified a dozen or more biodynamic wines for us, and another 20 or more bottles that were being produced using biodynamic principles, or by wineries that are in the process of converting to biodynamics.
Unfortunately, I couldn't find any indication that the wine we ultimately chose from his options — a white from Domaine Tempier, the producers of our favorite rosé — was created biodynamically. According to information on a number of sites, Tempier is indeed a venerable (albeit uncertified) organic winery, but they only occasionally dabble in biodynamics… and one can surmise that their low-end $12 Bandol Blanc probably isn't the wine they're dabbling with. (I'm glad we'll get to try it… but I'm cranky that it was misidentified.)
So, over to BevMo, this time with Fork & Bottle's list of biodynamic producers in hand. Trust, as they say, but verify.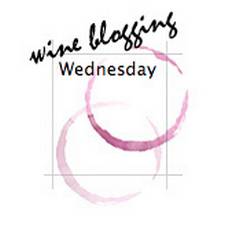 Our tasting notes:
Patianna Sauvignon Blanc '05 Mendocino (California) – $14.99 ($18 winemaker's list)
80% Sauvignon Blanc clone #1, 20% Sauvignon Musque
Pale champagne color; yeasty on the nose; watery and thin flavors, but with an incredibly long finish (with no unpleasant aftertaste); the merest hint of effervescence. Cameron felt the wine had a toasty nose, and found hints of shellfish and sour in the corners. Anita missed the classic dry melon/pear flavors she loves in Sauv Blanc — in fact, there was little fruit at all. It was hard to believe that this was a New World wine. Compared to the similarly priced Chateau Souverain Alexander Valley Sauvignon Blanc (our "house" white), we agree that the Patianna winds up sour and unbalanced.
Chapoutier Cotes du Rhone Belleruche '04 – $16.99 (€5.09 winemaker's list)
80% Grenache, 20% Syrah
Straight out of the bottle and then in the glass, there's a whiff of caramel nose, which doesn't last, followed by a faint cherry nose and not much else, even when fully (over)warmed. Clear, medium-ruby colored. A lot of mineral tang at first, and though the wine eventually opened up, it never went far enough for us to really enjoy. Better with food than alone, not surprisingly. Fairly astringent for a 2-year-old wine. Thin, not a lot of complexity — it tastes like dried cherries and not a lot else. Trés French and not unpleasant, but seems over-simple and uninteresting compared to our usual array of $8-12 Cotes du Rhone options. Cameron would buy it again for something uncomplicated to drink in the summer…if we could get it for five Euros. Anita would use her seven bucks to try something else.