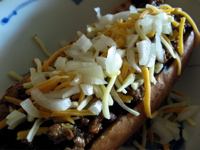 Mmmm, football-watching Prather Ranch chili dogs…
And we also have a WINNER. In fact, we have a couple hundred. But for those of you sitting on the edge of your seat, wondering whether you'll be the lucky one getting a care package from us this week, you might want to cast an envious glance in the direction of the appropriately named "Award" — he or she is the winning bidder who will be taking the Armchair Tour of the Bay Area from this year's Menu For Hope raffle.
Thanks again to everyone who bid and supported this amazing event. Be sure to visit Chez Pim for the complete list of winners.