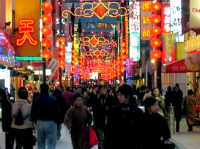 Flashback to Thanksgiving, 2005: We were sitting around my parents' living room, visiting with some of their friends who had come over for coffee and dessert. Talk turned to our upcoming trip to Thailand, and our brief stopover in Tokyo on the way to Bangkok. Mom's friend M, who is Japanese, asked us what we were planning to do there.
We chatted about our plan to tour the Tsukiji fish market the first morning, and then mentioned, sheepishly, how we'd heard about a museum in Yokohama devoted to the history of ramen noodles. M told us, very excitedly, that she'd grown up in Yokohama and would be visiting her family there for the New Year holidays — right at the same time we'd be passing through. She'd heard of the museum but had never been — could she come along with us? (How fast do you think we said "yes"?)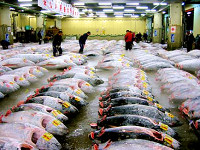 A few weeks later, we arrived in Tokyo late Christmas night, and headed straight to bed. We had a date the next morning at 3:45am with our Tsukiji guides. And then, on the very same day, we boarded the shinkansen (bullet train) down to Yokohama to meet M. Despite massive jet lag and a complete language barrier, we only made one minor misstep — we picked a queue that led to a smoking car.
By the time we realized our mistake, all the nonsmoking seats were taken. Fortunately, sitting in the smoking car had one advantage: We got to spy on Japanese salarymen as they smoked and snacked on food they'd brought onboard from track-side kiosks. One man's lunch in particular piqued my curiosity — could it really be a fried-pork sandwich?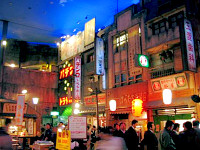 M was the best Yokohama guide you can imagine, creating a food-filled tour of her hometown just for us. We started out the day, as planned, at the Shin-yokohama Raumen Museum, which features outposts of famous ramen shops from all over Japan in a setting that replicates a 1950s-era Japanese neighborhood. We sampled four different kinds of ramen, amazed at their variety and depth.
We followed our ramen-fest with a boat ride across Yokohama's harbor. The ferry dropped us near one of Japan's most famous department stores, where the basement food halls were filled to the ceilings with traditional new year foods, osechi ryori, which M explained would be enjoyed as a room-temperature feast on the first days of January.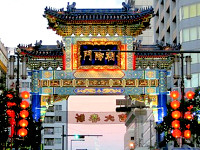 After touring the food halls, we strolled through the city's bustling Chinatown. We browsed through cookware shops, pressed our noses to the windows where cooks flipped stir-fries in enormous woks.
Knowing we were on our way to Thailand, M wanted us to try Japanese curry. She knew just the place to take us — another food museum! (You have to love a country where there are no fewer than seven food-related attractions in a single area.) Although much less of an actual learning experience than the Raumen Museum, the Yokohama Curry Museum offered a few exhibits, centered around a food court. We feasted on beef curry, curry udon and other curry dishes, and amused ourselves in the impressive gift shop full of ingredients and mixes from all across Asia.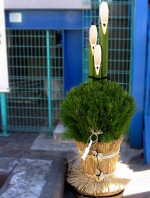 As we walked around Yokohama, M pointed out a number of traditional holiday decorations called kadomatsu: bamboo, pine, and straw in simple, elegant arrangements on either side of the doors of nearly every establishment and home.
At some point that afternoon, M asked how we'd enjoyed our shinkansen journey. We told her that we loved the gliding from Tokyo's center to its suburbs, and out into the countryside. Talking about the train ride reminded me of that curious sandwich I'd seen. Sure enough, M explained, it was a katsu sando: Tonkatsu on white bread, garnished with a spicy-sweet sauce. Wow!
It turned out we were just blocks from Katsuretsu-An, Yokohama's most venerable tonkatsu restaurant. Even though we were stuffed from our museum grazing, M insisted on taking us there for dinner. We feasted on a meal that started with steaming bowls of miso soup garnished with pebble-sized clams, followed by juicy-crisp tonkatsu.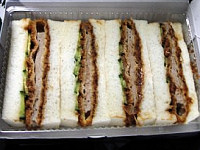 As night fell, M walked us back to the train station, and even rode part of the way back to Tokyo with us, to make sure we knew which way we were headed. As she bade us farewell at her transfer point, she handed us a tidy white box that held a thoughtful gift: A katsu sando of our very own. We stashed it in our hotel minibar and shared it on the shuttle to Narita the next day, reminiscing about our wonderful day, and the heartfelt generosity of our new friend.