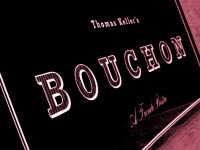 Every time I sit down to write this post, I sigh deeply and then find something more pleasant to do… like empty the dishwasher. It's not as though our meal at Bouchon Las Vegas was bad, per se (ha ha), but the experience was so far below even our modest expectations that I'm still disappointed, days later.
As I browse through the photos, I realize that most everything we ate was reasonably good, some things were even great. But there were so many service missteps, awkward moments, and food fumbles that added up to a whole lot less than the kind of memorable meal I expect from a Thomas Keller establishment, even a baby bistro in Sin City. Especially one with $35 entrees.
I suppose the biggest issue with our meal was the sevice. Our waiter was undeniably sweet, but simply not ready for prime time. As Cameron said: "He has the raw skills to be a great waiter, but he's definitely not there yet." His numerous gaffes included awkward check-ins, stammering recitations of specials, and a rather graceless handling of a bar mistake. Oh, and an outright "WHA?" moment, when he described "soubise" to the couple next to us as "kind of like a risotto." Um, ah-no. On the flip side, the host staff and managers were right on top of things, both as we arrived and as we departed.
The other clunker of the evening was the atmosphere: Bouchon's space at the Venetian suffers from a severe lack of coziness. I know, I know… it's Vegas, but the high ceilings make the place feel less like the Grand Canal and more like the Grand Canyon. On the positive side, the decor hits a gently Gallic tone, whispering "bistro" — a Parisian-style hat rack over banquettes and pastel still-life murals — without dipping too far into cliche.
The food, alas, was similarly hit and miss. After we placed our order, a runner brought shatteringly good bread and a welcome bowl of pistachios to accompany our drinks: a signature Bouchon cocktail for me (a touch too much peach liqueur for my taste — but hey, it's their recipe) and a glass of sancerre for Cameron.
Moving into the appetizers, Cam's onion soup came out of the kitchen terribly undersalted; With no salt on the table, he had to ask our gawky waiter to bring some. My salade lyonnaise was top notch — perfect egg (sous vide, perhaps?) and lovely lardons — but slightly overdressed.
We both opted for nightly specials for the main course. Cameron's dayboat scallops were perfectly seared, served in a delicate, creamy sauce gilded with tender pieces of crab, and accompanied by a light-as-air potato gratin. (Sounds impossible, I know… but Keller's crew knows their spuds, even here.) My pavé de veau featured meltingly tender veal breast, assembled into a tall cube and crisped up with panko. Underneath: Lovely roasted brussels sprouts, a too-sweet soubise (that's an onion-infused Bechamel sauce… not at all like a risotto, thanks), and odd but definitely tasty chestnut "pain perdu" sticks on top of the stack.
For dessert, we chose after-dinner drinks and an order of beignets to share. The pastries themselves were cold and leaden, like they'd been made hours ahead of service, and their cream filling tasted pasty and heavy. An unbilled scoop of chocolate ice cream was the plate's saving grace.
Our waiter stopped back after our dessert arrived to let us know it would be a few minutes before the bar could serve my requested glass of poire william; they needed to get a bottle from storage. I truly didn't mind the delay, but the waiter's fumbling and stumbling left me more annoyed than the actual missing drink. When the digestif did finally arrive, the glass contained a gargantuan pour, easily three times as much as any sane person would drink at a sitting — a generous gesture, perhaps, but one that came off feeling amateurish.
All in all, it seemed more like a meal that should have cost closer to $130 than the $230 we spent, even adjusting for the Vegas Factor. Would I return? Possibly — I suppose we could have dropped in on an off night…although it's hard to believe that Keller wouldn't have the A-team in the kitchen (and working the tables) on a Saturday night, even on a holiday weekend. With so many other restaurants left on our Vegas list, it's hard to imagine we'll be back anytime soon.
Bouchon
3355 Las Vegas Blvd.
(inside the Venetian Hotel)
Las Vegas, NV 89109
702.414.6200