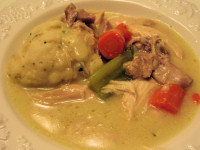 As careful readers may have noticed, the last couple of weeks have been filled with dishes that indulge my dad's food cravings. Since Pops' favorites lean heavily toward the foods of his youth, finding a suitable entry for Retro Recipe Challenge #4 hasn't proven terribly difficult. In fact, the hardest part has been choosing among this week's roster of golden oldies.
Given the RRC4 theme, Fall Favorites, a clear front-runner emerged. Pops requested chicken & dumplings, and the recipe Mom uses dates from at least the early 1970s. Alas, the exact source is lost to the sands of time, but one look at the clipping and you can't miss that 70s women's magazine vibe — complete with a Kraft Squeez-a-Snak ad on the back!
Amazingly, we resisted the urge to tinker with the recipe; we even used the bouillion cubes. But the veggies completely disintegrated, so Mom simmered up some extra carrots and celery, and added them after thickening the sauce. The dumplings were surprisingly good; I'm not sure if I'd make the chicken again, though. The sauce definitely reminded me of Campbell's Cream of Chicken soup!
Oh, and lest I forget: It was served with a Waldorf salad… how's that for old school?!
Chicken and Dumplings
Chickens are still a good buy. Stretch the flavor and servings per chicken with this old-fashioned dish.
3-pound broiler-fryer, cut up
2 tsp. salt
1/4 tsp. pepper
2 celery stalks
1 onion, sliced
2 carrots, coarsely chopped
1 sprig parsley
1 bay leaf
2 chicken bouillion cubes
1/2 cup milk
1/3 cup flour
2 egg yolks, beaten
Parsley Dumplings (recipe follows)
Put chicken in a kettle or Dutch oven and cover with boiling water. Add salt, pepper, celery, onion, carrots, parsley, bay leaf, and bouillion. Bring to a boil, cover, and simmer 1-1/4 hours, or until chicken is tender. Remove chicken from liquid, and when cool enough to handle, remove meat from bones. Measure liquid and if more than 4 cups, boil down to 4 cups. Blend milk and flour, and gradually add a little hot [cooking] liquid to milk [mixture], then stir milk [mixture] into remaining hot [cooking] liquid and cook, stirring, until thickened. With spoon, gradually beat in egg yolks. Put chicken back in broth. Drop dumpling batter by tablespoonfuls [sic] into bubbling broth. Cook, uncovered, 10 minutes. Cover and cook 10 minutes longer. Makes 4-6 servings.
Parsley Dumplings
1 cup all-purpose flour
2 tsp. baking powder
1/2 tsp. each sugar, salt, and celery seed
1 T chopped parsley
1/2 cup milk
Mix together flour, baking powder, sugar, salt, celery seed and parsley. With fork, stir in milk until just moistened.