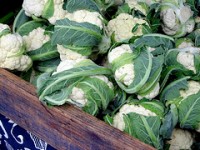 Ack, I hate it when I look up and realize that (a) it's almost the weekend and (b) I haven't written anything since the previous weekend. Chalk it up to a busy week, I suppose.
Which is not to say that we haven't been cooking — and eating — quite a lot. Saturday we did our usual trek to the Ferry Plaza Farmers Market in the morning. Although the light wasn't as gorgeous as it was the week before, there were still plenty of gorgeous specimens to photograph… many of which you'll see in the week's menus.
Saturday evening, we roasted a little chicken from Hoffman, which made us realize — duh! — that yes, Virgina, there is a huge difference between these coddled birds and even the Rosies and Rockys at Whole Paycheck. Just like the pork and beef from Prather, I'd much rather spend the same money to have a little of this kind of chicken than a lot of the commercial stuff. Anyway, sermon over…
I'd also bought a bagful of broccoli di ciccio and turned it into a tasty side dish with orecchiete and sauteed chickpeas. For such a simple recipe, it was incredibly satisfying — and even better the next day for lunch, with some of the leftover chicken meat shredded into it.
The next morning, I got up early and baked a Red Velvet cake from the Lee Bros. cookbook, in preparation for a dinner that evening with friends. Just like every other recipe I've tried from that book, it required a bit of interpolation to make it work, but the end result was pretty good… and definitely red! I realized in the process that I hadn't done much baking at all, in a very long time. That's going to change — I really miss it!
There's nothing we like better than puttering around the house, tidying and cooking and getting things ready for a dinner party. In this case, an impromptu meal with our friends Sean and DPaul, who we hadn't seen for dinner in far too long. They'd spent the afternoon putting up a truckload of preserves, so by the time they hit our living room, they were well ready for a drink… and to sit down!
We drank our Manhattans and ate a plate of radishes with Irish butter and fleur de sel, and listened enviously to their tales of pear butter and other seasonal spreads. Ah, another thing I haven't done this year — not even a batch of pickles. Sigh.
Dinner was a salad of marinated roasted beets served with bleu cheese crumbles and rosemary-roasted walnuts; the Zuni Cafe cookbook's mock porchetta — our old standby — with roasted teeeensy potatoes and chunks of fennel; and, of course, that Red Velvet cake.
Monday night brought a soup-and-sandwich supper: The triumphant return of the cauliflower and Stilton soup from a Soup of the Fortnight of yore, paired with BAT (bacon, avocado, and tomato) sandwiches. Yum! So much fun to take good bacon — this time from Prather Ranch — and pair it with pain de mie and one of the last superripe heirloom tomatoes of the season.
And then Tuesday, we ate a very simple dinner of chorizo tacos and soupy beans. Man, those Fatted Calf boys know how to make tasty sausage — I think theirs is even better than my own! Paired with Rancho Gordo ojo de cabro beans and fresh-masa tortillas, I can't imagine a better quick-weeknight dinner. Or breakfast! We smashed up some of the beans, tossed in some leftover chorizo, doused it all with good salsa roja, and stirred in some of RG's chips, and sprinkled with queso… chilaquiles on a weekday, be still my beating heart!
More food later… must go pay the bills.