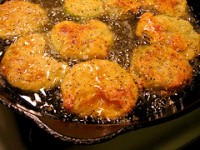 There's nothing sadder than fruit left on the vine at the end of summer, with no prayer of ripening. Our not-terribly-prolific tomato plant on the back porch finally got around to setting fruit just in time for autumn's chill, so we've got an abundance — yea, a vertiable bumper crop — of green tomatoes that will never become red. Luckily, the theme for this month's installment of Hay Hay It's Donna Day (hostessed by JenJen at Milk & Cookies) is Fritters, a perfect excuse to sizzle up some fried green tomatoes.
We got an advance review copy of the Lee Brothers' new cookbook last week, and we've been testing out a few recipes. Even though I am (technically) a daughter of the South, I find most Southern cookbooks rather ho-hum. I want to love Frank Stitt, and there's a warm spot in my heart for Miz Lewis (and her port-roasted pork shoulder, specifically), but every time I test out a new collection of Southern recipes, my response is an unqualified "meh."
This time, I thought I'd gotten lucky. Flipping through the draft, I noticed a ton of recipes that seem a little more interesting than the norm. Sure, there's the obligatory receipts for pimento cheese, spiced pecans and whole country ham, but then there's also a chile relleno stuffed with cheese grits, a smattering of cocktails that breaks out of the julep-and-punch mold, and a mini-section on preserving. More than a handful of recipes boast a Sunday (fancy) and Tuesday (easy) version, and each chapter offers "QKO"s aplenty — quick knockouts that turn out impressive-but-speedy weeknight suppers.
Unfortunately, none of the recipes we've tried yet have been out-of-the-ballpark successes. We enjoyed the Pork Loin Chops with Pears and Vidalia Pan Gravy, but it seemed like a lot of prep work for a "quick knockout". We both agreed we would try the Buttermilk Ice Cream again, although I'd probably add a touch of corn syrup to help with the grainy texture. (Still, if you put Fran's caramel sauce and some toasted pecans on it, you'll be so transported that you may not notice the less-than-stellar mouthfeel.) It's sad that something so elemental as ice cream would need to be tinkered with, though.
Which brings us back to those tomato fritters, aka Fried Green Tomatoes. Now, my mama taught me that if you cain't say somethin' nice, keep your mouth shut… but just between you and me, the breading was so incredibly salty that we literally couldn't eat the tomatoes. Which is a shame, really, as the texture was lovely, and the underlying recipe was very well planned.
It's even more worrisome, though, that the super-salty "all-purpose dredge" used the coating is a master recipe, called for in fried chicken, fish, oysters and such. The accompanying buttermilk dressing was similarly flawed: oddly flavored and way too runny — as though the ratios were off here, too. I certainly hope that these issues are fixed in the final edition (which just hit the streets).
Here's my modified version of the recipe:
Green Tomato Fritters
- adapted from The Lee Bros. Southern Cookbook
1/2 cup all-purpose flour
3 T stone-ground cornmeal
2 tsp salt
1.5 tsp freshly ground black pepper
1 pound green (unripe) tomatoes (2-3 medium)
1 large egg, beaten well
1/4 cup whole milk
approximately 1 cup peanut oil
salt, to taste
Whisk all of the dry ingredients together in a flat bowl or pie plate. In a second bowl or pie plate, whisk the egg and milk until well blended.
Cut the stem ends off the tomatoes and slice them 1/4-inch thick with a serrated knife.
Pour the oil into a low skillet to a depth of 1/3 inch, and heat over medium-high. Meanwhile, heat the oven to 225°F, and set a baking rack over a cookie sheet on the top rack.
Place a plate near the stove, lined with a double thickness of paper towels; have more towels handy.
Press a tomato slice into the dredge, once on each side, and shake off any excess. Dip the dredged slice into the egg wash on both sides, shaking off excess, then back into the dredge on both sides. Shake off excess coating and place slice on a clean platter. Repeat with more slices until you have enough to fill your skillet.
With a spatula — not your fingers — transfer the first batch to the hot oil in the skillet. As the first batch cooks, dredge more tomato slices, keeping an eye on the skillet. Once the slices are golden brown on one side (about 2 minutes) flip them carefully and fry for 2 minutes more or until equally brown on both sides. When done, remove to the paper-towel-lined plate, sprinkle with salt as needed, and let sit for 1 minute.
Arrange the cooked slices in a single layer on the rack in the oven, until all slices are cooked. Serve hot, with your favorite creamy buttermilk ranch-style dressing as a dip.
(For more pix, check out our Fried Green Tomatoes photo set.)