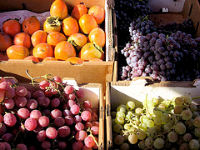 It's taken me a week to realize that I didn't (and don't) have time to write about last Saturday's highly enjoyable trip to the Ferry Plaza Farmers Market, which was all the more fun for having been out of town for too many weekends.
The stalls were filled with all manner of picturesque veggies & fruits. I actually ate a red apple that I loved, which shocked me… I usually despise the mealy things, but this one was crisp, tart, and lovely.
The morning's only (minor) disappointment was the lack of chilaquiles at Primavera… but an order of Huevos Rancheros and a chili verde pork tamal were aceeptable stand-ins.
Plenty of pix on Flickr… the light was downright Flemish. I hope tomorrow's as nice.