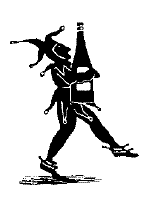 It's Monday evening, the first night of NYC without reservations. I stroll purposefully down to Washington Square Park and step through the door at Babbo at around seven. The bar and front tables are full and there's just one couple sipping wine by the door. A quick chat with the host and the next open spot at the bar has my name on it. I try to find an inconspicuous spot to stand and end up by the doorway, dodging the overzealous greenery stashed at head level. Sly and the Family Stone penetrates the air. While I wait, a man walks in dressed as if the Ralph Lauren Polo box arrives in the mail every three months. "Oh," he mutters. "Looks kinda crowded," and darts back out, the way you do when you go somewhere all the time and you'd just as soon just grab a hot dog down the street as wait a half hour for dinner. I hate him. He is evil and probably unkind to animals. I am instantly, passionately jealous.
Salvation. My seat is available. Immediately I am confronted with the extensive wine list, but I am hopelessly uncultured and ignorant of Italian wine, and the only name I recognize is Bastianich. Grasping at straws, I point at a likely white and ask the bartender for a description. Among other things he says, "Minerally," which when used in reference to white wine is akin to saying, "Al-a-kazaam!" to my taste buds.
It is probably due to a deficiency of character that the more exclusive the restaurant, the more powerfully I am drawn to any offbeat meats that appear on the menu. So, like Vincent Vega at Jackrabbit Slim's, I run my finger down the menu muttering, "Offal, offal, offal," until I score. It doesn't take long; Signor Batali is known for his fondness for barnyard variety. I order warm tripe "alla parmigiana" to start, followed by beef cheek ravioli in crushed squab liver sauce.
When the tripe arrives, I am relieved that I didn't go for three courses (the lamb's brains pasta was bleating my name). It is an heroic portion of innards and I tuck in with abandon. The tripe is mildly but not aggressively funky, and the red sauce is smooth and sweet, shot through with occasional sage leaves and chunks of soft, thoroughly cooked carrot. The texture of the tripe reminds me of hand-shaven dan-dan noodles. The wine works with the dish, keeping everything light and bright.
I ask for another wine recommendation to accompany my beef cheek ravioli, and the bartender pulls down a bottle that he says was opened for a reserve tasting. Montevertine 2001. Again, I am uninformed and foolish, but it tastes great. It's a chianti grape, but there's none of the lurid, screaming cherry attack late in the palate. How civilized. Not cheap, but very civilized. The beef cheek ravioli are very slightly disappointing. The filling is delicious, as is the sauce, but the pasta itself is not quite right. It's faintly tough, although I'm particularly sensitive to pasta that's a little too al dente.
As I eat and drink, the wine retains some mystery. There's something missing that I can't put my finger on. The absence isn't unpleasant, but it's noticeable. Finally I figure out that I'm not getting the boozy punch that my feeble palate must now be accustomed to after years of drinking huge, alcoholic, New World wines. I mention the difference to the bartender and he nods. Of course.
Eating at the bar of a fine restaurant is a little bit like watching a concert from the first row. You can enjoy the show like everyone else, but you also get glimpses of the artists (and sometimes their supporting cast) at work. You get to share some of the tiny, unacknowledged dramas that pepper every live performance. My bartender asks one of the waiters if the customer wants to taste a particular bourbon. "Oh no," sighs the waiter. "He wants me to taste it for him and tell him if he'll like it."
Somewhere between the tripe and the ravioli the room starts getting more crowded. By the time I'm halfway through the ravioli the place is packed. Behind me, an expensively-dressed foursome in their fifties loudly complains about the delay in outer borough accents so thick that I have to smile. Where is Dr. Higgins when you need him?
Over my shoulder, a man asks for a glass of cabernet and a glass of pinot noir. "We don't have anything made from either of those grapes," says the bartender, "But we have wines that taste similar." The man takes a wine list and begins a debate with his female companion that's obviously going nowhere useful. The bartender listens for less than a minute, then pulls down a bottle of wine and pours tastes for the couple. They're happy with his choice and settle in to wait for their table. The bartender sets up a glass in front of me and pours another taste. "This is what I would have recommended if you hadn't gone for the Montevertine," he says. A few minutes later, he shows up with another bottle and another glass: "You'll see that this one is more alcoholic. It's made from grapes grown high up on Mount Etna." Truly, I am still foolish and uncultured, but I am now also master of universes both known and unknown. I belong here. I shall borrow a corkscrew and carve my name on the bar and that will serve as a marker until a brass plaque can be ordered.
Another couple presses in on my right and the man asks me about the wines in front of me. I tell him what I know and we commiserate over our lack of Italian wine-fu. "When we were in Italy," he says, "The best wine was whatever was being made locally." I nod understandingly, as if I've been there. Italy. Of course. The man continues, musing regretfully about the Italian wines that they've drunk here in the States that haven't been up to snuff. "I mean, they're good and all," he allows, "But are they worth $250 a bottle?" Again, I nod. Indeed. What can one do? Excuse me, I think that's my Ferrari the valet is bringing around. Ciao.
The cheese course is wonderful: robiola, Coach Farms Finest, and taleggio latte crudo. There's no way that I can manage dessert. I'm pretty sure that my feet don't touch the sidewalk all the way back to the hotel.