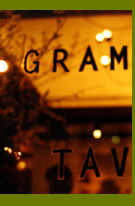 It's Tuesday evening of NYC Without Reservations, and I've suffered a setback: I'm at the wrong damn address.
I was aiming for Veritas, but I'm at 42 East 20th Street, and there's no sign of…oh wait, there it is. It does my ego no good that I've already paced around for five minutes and called information before I see the Veritas sign on the other side of the street. It's only about 900 feet tall with white lettering on a black background. Good thing I wasn't trying to chew gum while I was walking, or I'd have ended up in traction.
Setback number two. Perhaps if Scott Bryan was a regular reader of Married…With Dinner, he would have held a space at the bar in case I showed up.
Back on the street, I see an expanse of glass glowing warmly across the way. Now I understand. Fate directed me to my dining destination, but I was too stubborn to listen. I submit to the tides of the universe and accept 42 East 20th as my destiny. Veritas be damned. I'm going to eat at Gramercy Tavern.
When I breeze into the tavern's front room and see the packed bar, my confidence wavers for just a moment. But sure enough, there's one open spot down at the end by the waiter station. To seal the deal, it's under a canopy of leaf-covered branches springing from a bucket. After my encounter with the aggressive plants at Babbo, I'm beginning to feel a bit like Stanley thrashing his way through the jungle underbrush in search of Dr. Livingstone. I could wait for another space to open up. Instead, I take it as a sign and pull up a stool.
A cheerful bartender hands me a menu loaded with historically styled ways to get wasted. Old-school cocktails are what all the cool kids are drinking, I guess. I haven't seen this many smashes, fizzes, and the like since I was at Bourbon & Branch. I choose a Gin-Ginger Tonic, and discover that my booze sense has lead me astray. The drink itself tastes okay, but it's delivered in a foofy, long-stemmed glass packed full of crushed ice. Gads, man. What's next? A paper umbrella and a slice of pineapple? Even if the presentation is historically accurate—which I doubt, but I'm a drunken scholar, not a drink scholar—you have to draw the line somewhere. At the very least, put a picture of a pansy or something next to the menu listing to warn the unsuspecting patron. I hope that this isn't a trend.
I tuck the glass into the crook of my arm and drink quickly, trying to keep a low profile. Quick visual review: Bald guy with earrings and a soul patch in a pressed shirt sitting under a tree's worth of foliage, furtively sipping a sweet drink out of a pimp glass. I'm absolutely positive that this not what my father had in mind when they said, "It's a boy!"
Rattled, I scan the menu for something to prop up my fragile masculinity. I find a filet mignon with balsamic onions and pureed potatoes. For the opening course I abandon my principles and order a salad. Nothing else sounds appealing and I need the roughage after last night's adventures in guts and butter. Nevertheless, I have to get a grip on myself. Maybe I should down shots of whiskey between courses. I resolve to order everything in a very deep voice.
The salad turns out to be a pleasant surprise. I never used to pay much attention to over- or under-dressed greens, but it's something that Anita always notices, and now I do too. My house salad is skillfully dressed, and if the lettuce mix is pedestrian, it's also tender. A light touch of fresh dill makes the dish sparkle. The filet arrives, I tear in, and I'm smiling wryly by the end of my first mouthful. It's a nice bit of meat and properly cooked, but after wallowing in beautiful tri-tips and dripping, marbled cuts of rib-eye from Prather, I'm spoiled. The potato puree on the other hand, is so good that I'd slurp it off the plate without the benefit of knife and fork if necessary. The little pile of thinly-sliced balsamic onions atop the filet is divine.
The crowd at the Tavern is ecumenical. A pride of tan, power-suited men at the opposite end of the bar call out to friends and wave silvery martinis. A tableful of parents and young children behind me gives way to two women in informal knit tops working their way through dinner and a bottle of champagne. Two seats down the bar, an elegantly featured young woman orders a cheese plate and a glass of wine and then lingers over it for the duration of my stay, scribbling notes. I can't catch what she's writing, but it's something about food. One of the floor captains spots her and the two embrace happily. She's been recently promoted to host at (I miss the name), and is having trouble finding her rhythm, especially handling VIPs when they make difficult reservation requests. The man sitting between us orders fish and a glass of white wine. He calls the bar staff by name, banters with the woman expediting drinks for the waiters, and then chats up the newly promoted hostess. They talk about food and eventually the French Laundry, but not Per Se, as far as I can hear.
I finish with a cheese course and a discovery. I'm again seduced by a robiola, accompanied by a soft, amazingly nutty blue, and a powdery, parmigiano-esque cheddar from Vermont. The discovery comes with the wine. Doesn't it always? Carrying the wine from the main course over into the cheese course has always felt natural, but it's usually a red and I'm rarely happy with the combination. This happened at Babbo last night, so I try a different route and am rewarded. I ask for something white and sweet-ish, and the bartender recommends a gewurtztraiminer that I think tastes of apples. He seems unconvinced, but he's happy enough that he found something I like. The taste of apples and cheese makes me think of autumn, but the greenery over my head and the warmth of the evening as I leave still say summer. Maybe we have a few days left.