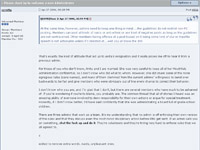 I promise not to do this very often, but I can't resist a hearty "hear, hear!" to Sam over at Becks & Posh for her recent crankiness on a subject near and dear to my heart: The tyranny of online food communities. Reading about Sam's recent (re-)disillusionment with the new-but-not-really Chowhound brought up a lot of old stuff for me.
Looking on the bright side — as Kevin from BaconPress quips in Sam's comments — I suppose I owe the food-board troglodytes a thank-you note: This blog (like many others) was born out of our frustration with the politics and personality disorders that inevitably infest even the best-intentioned food communities, and from our desire to keep sharing all the fun food stuff we stumble across in our wanderings.
I dug up an email that I sent to a MouthfulsFood friend who asked me if I was ever going to return to the fold, after I staged a one-woman boycott following a vicious personal attack by one of the board's resident nutjobs:
I am blessedly glad to be free of the axis of snivel; I hadn't realized how much that negativity wore me down, day after day.

I do miss the community, and every now and then I have a pang of wanting to share something wonderful. But the more I think on it, the more I realize that (a) I'm not missing much in terms of useful info and (b) I don't need the angst.

I'm lucky that I have the best parts of my online experience integrated into my 'real' life, now, and I realize that that's where the biggest payoff is going to happen.
OK, rant over. Thanks for indulging me… not just today, but all the time.
Cameron says:
I'm so glad that Anita put this up. Superkudos and much admiration to Anita, Sam and all of those (special shout out to S. @ RG) who can absorb the acid and vinegar and still come out balanced and smooth on the other side.