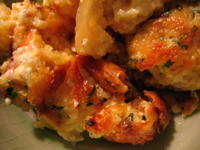 We had the Prather chili last night. What can I say? Even a few days' rest in the fridge didn't make it taste much better. But, while puzzling over what to serve alongside it, I realized that we still had cornbread left over from a batch Cameron made with Bob's Red Mill coarse-grain cornmeal. It was all dried out, but the more I thought about it, the more I felt terrible throwing out a batch of cornbread just in time to turn around and make a fresh pan. Too bad there wasn't a way to revive it. Or was there??
Thankfully, I didn't have to go far for inspiration: One of our favorite chef-type-guys, Tom Douglas, offers recipe for Etta's Cornbread Pudding in his first cookbook, Seattle Kitchen. I made a few tweaks and voilá… recycled food at its most-utterly luxurious! Custardy, corny goodness with a kiss of cheesy love. Even Cameron — certified bread-pudding loather — licked the bowl clean and asked me to put the recipe in the permanent file.
Tom-Meets-Bob Cornbread Pudding
2-2/3 cups 1-inch cubes of leftover cornbread
– preferably made with coarse-grind, whole-grain cornmeal
1T butter (plus a little more for buttering the pan)
1 cup thinly sliced onions
3/4 cup grated Dry Jack or other semi-hard cheese
2 tsp. chopped flat-leaf parsley
1/2 tsp. chopped rosemary
1/2 tsp. chopped thyme
2 cups heavy cream
1/4 cup chicken stock or broth
4 large eggs
1 tsp. kosher salt
1/2 tsp. pepper
Preheat oven temperature to 350 degrees. Butter an 8×8* baking dish and set aside.
Melt butter in a sauté pan over medium-low heat and carmelize the onions very slowly until golden brown, at least 20 minutes. While the onions are cooking, cube the cornbread and place cubes in the buttered pan. In a large bowl, whisk together the cream, stock or broth, eggs, salt and pepper and set aside.
When onions are done, sprinkle them evenly over the cornbread, followed by the cheese and herbs. Pour custard mixture over the cornbread cubes, and let sit for 10 minutes to absorb. Bake until custard is mostly set and the top is golden, about 40-45 minutes, and serve hot.
* Note: A 9×9 square pan is too large; the custard won't adequately cover the bread cubes. Use a pan with a maximum bottom area of 64 square inches. A deep 9-inch round cake pan would do, as would a 9-inch deep-dish pie pan. I happen to have a rectangular 6×8 inch Pyrex baking dish that worked fabulously.