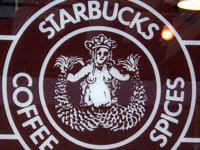 This just in from the Seattle Post-Intelligencer… Starbucks' original logo causes an uproar:
A Kent elementary school principal, according to a local TV station, asked teachers last week that if they were bringing their daily joe to school that they make sure they get a sleeve to cover the image of a topless mermaid on Starbucks cups.

The Seattle-based coffee giant, as part of its 35th anniversary, this month put its original logo with the bare-breasted mermaid on its cups in stores in Washington and Oregon.
Not that Kent is the most progressive of Northwest communities, but do they really think that elementary-school kids have never seen boobies before?