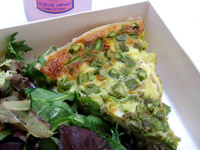 As I've mentioned before, the lunch options near my office are pretty grim. But even though I've known about Cafe Madeleine since late last year, for some reason I never seem to remember it when hunger strikes.
I'm officially resolving to remember.
Today's lunch was a gorgeous slice of ham-and-asparagus quiche. Serviceable asparagus meets chunks of good ham, all bound up in a creamy custard and surrounded by a better-than-decent crust. The side salad's good too… mixed greens tossed in a nice mustardy vinaigrette. All this for $4.50.
Add another couple bucks and you get a Pellegrino soda, or a French lemonade. If you can manage to resist the gravitational pull of the dessert case — and really, I promise not to mock if you can't… those pastries are almost pornographic in their glossy perfection — you'll be scrumptiously lunched for about $7.
Cafe Madeleine
300 California Street (x Battery)
San Francisco, CA 94104
415.362.3332