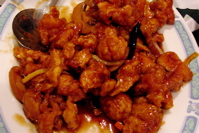 In the pantheon of old standbys, San Tung ranks among the venerable elders. We've been eating there since one of Cameron's roommates — ironically, a vegetarian — recommended it to us, back in the days when we were just a-courtin'. I can't even begin to count the number of friends we've turned on to the pleasures of dry-fried chicken and other San Tung delights in the years since.
As with any long-standing friend, we've collected plenty of lore about ol' San Tung, most of it based on stuff that's no longer entirely accurate. Example: It's still formally known as "San Tung Chinese Restaurant #2″, although there's no longer is a #1 to be found. And 'round our house, we affectionately refer to ST as "closed on every wednesdays" in deference to the chinglish sign that used to grace the door. (It's long been replaced by a just-slightly ungrammatical "wednesdays closed").
You'll see dry-fried chicken on almost every table at San Tung, for good reason: it rocks! (For those keeping score at home, we prefer the diced version to the wings, and alternate between the "wet" and "dry" variants.) If you're a fan of the hot, you'll love the little dish of kimchee that you get while perusing the menu.
We can also recommend spicy soup noodles, spicy peanut noodles, potstickers, pork dumplings, mu-shu whatever — if it's got noodles or a dumpling wrapper, it's going to be good — and the hot-and-sour soup is pretty respectable.
Service is brusque, as you'd expect from a restaurant in this particular genre — cheap Chinese, sans atmosphere — and you should be prepared to wait anywhere from 5 to 20 minutes, or share a banquet-size table with other parties. But what it lacks in charm, San Tung most decidedly makes up for in deliciousness. We're always happy when the craving strikes on a day that isn't a "wednesdays".
San Tung Chinese Restaurant #2
1031 Irving Street (at 11th)
San Francisco, CA 94122
415.242.0828
- 11am to 9:30pm; closed [on every] Wednesdays