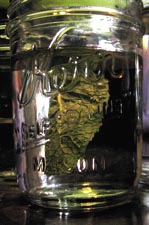 Finding ourselves without dinner plans — and seriously in need of both comfort food and cocktails — we decided to try out farmerbrown. (Or is it "farmer brown"? Even they can't decide: it's farmerbrown on the sign and the site, and farmer_brown on the door.)
Anyway… Our man Brown — or his real-life counterpart, chef-owner Jay Foster — seems to be a heckuva guy, and we figured we'd like his stuff. Any place that boasts of "farm-fresh cocktails" can't be all bad, and Foster makes a big deal about supporting local and African-American farmers. Cool beans.
Realizing that fb is a hot ticket, we called ahead to make sure we could get in. Cameron tried first, and got no answer… even though it was 5:20 and the restaurant opens at 5. I tried a bit later, and got an answer on the first ring. I said that I realized it was late, but wondered if they had space for 2 at 6:30; the hostess said they did.
I arrived at 6:25 and was asked to take a seat at the bar until the rest of my party arrived. Which would have been a lovely idea, as I spied some vodka infusions that looked interesting, except there were no seats to be had. Luckily, Cameron walked in just at 6:30. The hostess seated us at a 2-top table right in the doorway, and asked "Is this OK?" I asked if we could get something a little less in the middle of traffic, so the hostess checked the books and seated us along the banquette near the door — good enough.
But then, just as we were settling in with menus and napkins, she came back and, with no apology, tells us that, oops, she made a mistake, that table's reserved for a large party. We followed her to the rear of the restaurant where two different tables had to move so that we would be shoehorned into our seats. Harumph.
OK, so… menu at last. Looks like it does online: Hopped-up versions of soul-food classics. We snarkily pointed out multiple typos to one another (like "dungenss" and "pickeled") but otherwise liked what we saw. Water arrived in cute little canning jars, with a mint-spiked carafe for refills. The cocktail list is short, but balanced and in tune with the theme. The beer list is impressive — only five taps, but the closest thing to a generic brew was Anchor Steam — and mostly local. We chose a bourbon sidecar and a mint julep, which both were reasonably well made, served in stemless cocktail glasses over far too much ice.
After placing our food order, the runner brought us a plate of mini-breads: a pair of nice cornbead muffins and two dinner roll-ish biscuits, plus a small serving of runny berry preserves. We both ordered Wedge salads, which were fine but rather uninspired for a place that boasts of its farm connections: a quarter-head of iceberg, good bleu-cheese dressing, a sliced radish and a few cherry tomato halves. It needed something more to make it feel special; as it was, it felt like something you would whip up in 5 minutes at home.
I ordered the much-praised fried chicken for my main, which was possibly the best rendition I've had in San Francisco. The accompanying side of mac-and-cheese was measly — no more than a half a cup — and not very well made. The macaroni was overcooked, and the cheese sauce tasted overwhelmingly like a prepackaged spice blend: Tony Cachere's or Lawry's Seasoned Salt, perhaps? The accompanying sad, dead pile of arugula shouldn't have left the kitchen.
Cameron's crab po' boy sandwich was similarly problematic. The overstuffed crabcake interior and too-chewy bread made it impossible to eat without a knife and fork, and its flavored-mayo spread was tooth-achingly sweet. On the upside, there was plenty of crab, although it didn't taste especially fresh and crabby. The dish's highlight was its accompanying slaw: a chunky cabbage-and-cuke mixture lightly dressed in mayo touched with Chinese mustard.
Service was distant and scattered, and gave us the distinct impression that they really wanted us out of there: We ordered nearly the identical meal as the table next to us, who ordered before us, but we got served first. And instead of asking us if we wanted more drinks, the server just took the empty glasses; we had to hunt her down to order a round of beers. She also brought us the check as soon as our plates were cleared, and half-assedly added "Any dessert?" Gosh, no… we wouldn't want to put you out.
Despite all of our whining, we managed to make a number of pleasant observations. First: whoever runs their fryer knows their business; neither the chicken nor the po' boy stuffing was the least bit greasy. And it's not expensive: We barely spent $60 between us. The decor is a trainwreck, but the ambiance feels cozy despite the amateurish design. But the initial fumbling by the hostess, the crappy table we ended up in, and the mad rush through our meal all rattled us so deeply that we had a hard time enjyoing ourselves.
farmerbrown
25 Mason Street
San Francisco, CA 94112
415.409.3276