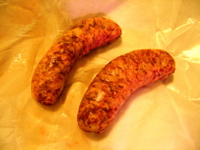 Anita and I were chatting about charcuterie as we sat down to dinner on Monday night when she allowed as how she always thought of pâté as a winter dish: something hearty for blustery weather.
Of course she's right. Charcuterie evolved as a way of both using scraps and preserving so that it could be eaten when fresh meat wasn't on the menu…say, when the winds of winter blew.
But for me, charcuterie is linked with summer, not winter. The natural place for a sausage is sizzling and popping on the grill, leaking fat onto the flames. When I was a kid, it wasn't summer until we were piling ham, salami, and whatever else onto sandwiches for lunch with cold Cokes and crunchy Fritos. And pâté insists on a picnic basket, grass prickling your legs, and French white wine poured from a bottle that's ice cold and slick with condensation.
Should you find yourself with a picnic basket to stock, do yourself a favor and include a slice of pâté maison from The Fatted Calf. They appear at farmers' markets on both sides of the SF Bay and you can order from their Web site. We've liked everything that we've tried so far (don't even talk to me about Aidells anymore), but the pâté is especially good. It's well balanced, not heavily spiced, and tastes fresh, which is an odd thing to say about a preserved dish, but for you I'll make an exception. Now waggle your eyebrows and read that last sentence in your best Groucho Marx voice.